We're following all official guidelines to keep ourselves healthy on the job, and as a result, shipping may be delayed.
You will receive an email from our web orders team confirming that your order has been processed.
We thank you for your support and your patience at this challenging time.
Boys Don't Knit (In Public) (Hardcover)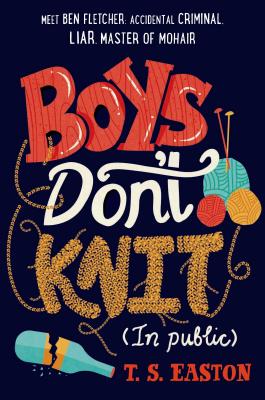 Description
---
After an incident regarding a crossing guard and a bottle of Martini & Rossi (and his friends), 17-year-old worrier Ben Fletcher must develop his sense of social alignment, take up a hobby, and do some community service to avoid any further probation.

He takes a knitting class (it was that or his father's mechanic class) with the impression that it's taught by the hot teacher all the boys like. Turns out, it's not. Perfect.

Regardless, he sticks with it and comes to discover he's a natural knitter, maybe even great. It also helps ease his anxiety and worrying. The only challenge now is to keep it hidden from his friends, his crush, and his soccer-obsessed father. What a tangled web Ben has weaved . . . or knitted.
About the Author
---
T. S. Easton is an experienced author of fiction for all ages in the UK. He lives in Surrey with his wife and three children. Boys Don't Knit received a Carnegie Medal nomination (2015).
Praise For…
---
"*Wacky characters, a farcical plot, and a fledgling romance are all part of the fun in this novel that will appeal to fans of Angus, Thongs and Full-Frontal Snogging." —Kirkus Reviews, starred review

"* This wild jumble of fun and wool is also full of heart, thanks to Ben's sweet, worried, and clever voice. Written in diary format (with a wink and a nod to Bridget Jones), this spins from one outrageous (and occasionally raunchy) incident to the next. But it's not all plot and heavy-duty knitting action. Relationships are center stage: the double-entendre bantering of Ben's parents; Ben's evolving association with the aforementioned crossing guard; his trouble with both women and friends. This one will keep you in stitches." —Booklist, starred review

"Teens will laugh out loud as they read about the protagonist's knitting and non-knitting escapades in this honest coming-of-age yarn." —School Library Journal

"This is a fun romp with a wonderful, self-deprecating hero. Many teens will relate to Ben, the accidental bad boy, and will laugh at his antics and the lengths he goes to to hide his knitting. The story is paced nicely, with many heartwarming and hilarious moments." —VOYA

"This funny and lighthearted novel captures the excitement of finding a passion in a story about taking life 'one stitch at a time.'" —Publishers Weekly

"* Hilarious in both plotting and style, this proves that girls don't have the lock on the funny British diary genre. . . Readers up for a silly, light-hearted romp will find themselves in stitches over this one." —BCCB, starred review