How to Think More About Sex (The School of Life) (Paperback)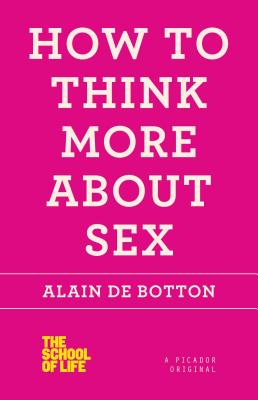 $17.00

Special Order—Subject to Availability
Description
---
THE SCHOOL OF LIFE IS DEDICATED TO EXPLORING LIFE'S BIG QUESTIONS IN HIGHLY-PORTABLE PAPERBACKS, FEATURING FRENCH FLAPS AND DECKLE EDGES, THAT THE NEW YORK TIMES CALLS "DAMNABLY CUTE." WE DON'T HAVE ALL THE ANSWERS, BUT WE WILL DIRECT YOU TOWARDS A VARIETY OF USEFUL IDEAS THAT ARE GUARANTEED TO STIMULATE, PROVOKE, AND CONSOLE.

We don't think too much about sex; we're merely thinking about it in the wrong way.
So asserts Alain de Botton in How to Think More About Sex, a rigorous and supremely honest book designed to help us navigate the intimate and exciting---yet often confusing and difficult---experience that is sex. Few of us tend to feel we're entirely normal when it comes to sex, and what we're supposed to be feeling rarely matches up with the reality. This book argues that twenty-first-century sex is ultimately fated to be a balancing act between love and desire, and adventure and commitment. Covering topics that include lust, fetishism, adultery, and pornography, Alain de Botton frankly articulates the dilemmas of modern sexuality, offering insights and consolation to help us think more deeply and wisely about the sex we are, or aren't, having.
About the Author
---
Alain de Botton is the bestselling author of How Proust Can Change Your Life, as well as numerous other works of fiction and essays. He is well-known for making complex philosophical and artistic subjects accessible for a wider audience. De Botton founded the School of Life, a series of lectures in London that aim to make academic learning applicable to real life. With the success of the school, this concept was adapted into The School of Life book series. De Botton lives and works in London.
Praise For…
---
"Many books of pop psychology or pop philosophy try to contend straightforwardly with what ails our age; Alain de Botton's wonderful How to Think More About Sex comes to mind, an example of an intelligent person helpfully untying some knots that bind us." —Sheila Heti, The New York Times Book Review

"How to Think More About Sex is a meditation on how comprehensively disruptive our urges can be...an honest book that's on the prowl for honest insight....Self-Help Books for the Rest of Us." —The New York Times

"It's like Cosmo meets Plato--finally!" —Salon

"Even if our sexual partners don't excite us, this writer's piquant prose will." —More

"De Botton's concept breathes ambition far beyond the chicken-soup-of-the-month formula." —The News & Observer

"De Botton is never prescriptive, and the intellectual rigor of his investigation prevents this book from settling into a self-help reference guide." —Publishers Weekly

"By encouraging readers to understand their desires and manifestations of sexuality in new and more reflective ways, de Botton's addition to the School of Life series offers a tantalizing discourse on this endlessly fascinating, and eternally misunderstood, subject." —Booklist

"[de Botton] offers a collection of essays that, taken as a whole, serve to pull sexuality into a philosophical consideration of our drives and desires, to illuminate how we can make sense of the urges that drive us senseless....A well-rounded examination of the ways we can marry intelligent thought and physical pleasure." —Kirkus Reviews

"In an age of moral and practical confusions, the self-help book is crying out to be redesigned and rehabilitated. The School of Life announces a rebirth with a series that examines the great issues of life, including money, sanity, work, technology, and the desire to alter the world for the better." —Alain de Botton, The School of Life Series Editor

"The School of Life offers radical ways to help us raid the treasure trove of human knowledge." —The Independent on Sunday (London)