Pancakes: 72 Sweet and Savory Recipes for the Perfect Stack (Paperback)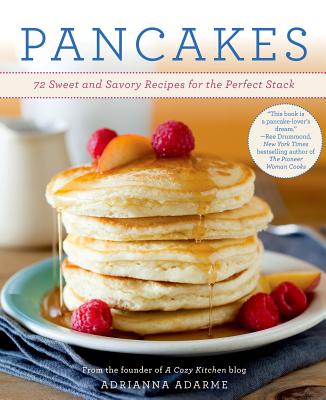 $21.99

Special Order—Subject to Availability
Description
---
Simple, delicious, sweet and savory pancakes for any time of day.
Who doesn't love a pancake? Celebrated in all cultures and made with variety of ingredients, they are the ultimate comfort food. When food-blogger-turned-cookbook author Adrianna Adarme first moved to L.A., she yearned for breakfasts that tasted like home, and so her pancake quest began. After mastering how to make the perfect fluffy buttermilk pancake recipe she was moved to experiment with different flavor combinations and unexpected toppings. The results are an outstanding collection of sophisticated and unusual pairings like ginger pear, chai tea, and chocolate pistachio pancakes, and on the savory side: cheddar bacon pancakes, smoked gouda potato pancakes, duck-fat pancakes, and kimchi fritters. Plus old favorites updated like banana bread pancakes, red velvet silver dollars, and blueberry ricotta pancakes. All together, this is a wide-ranging collection of seventy-two sure-to-delight pancake recipes for breakfast, lunch, and dinner---each beautifully photographed in full color. Additionally, Adrianna give the low-down on how to achieve the perfect batter for basic buttermilk, vegan, and gluten-free pancakes. there is a section with recipes for delicious syrups, simple glazes, and fruit-based toppings.
About the Author
---
ADRIANNA ADARME is an enthusiastic home cook and food blogger who lives in Los Angeles. In 2009, she started her blog, A Cozy Kitchen, which has become a place people visit to hear entertaining anecdotes about daily life and to find delicious, comforting recipes from Adrianna's kitchen. Her work has been featured in Food52, Etsy, A Cup of Jo, Fine Cooking, and the Los Angeles Times. She is the creator of the cookbook Pancakes: 72 Sweet and Savory Recipes for the Perfect Stack.
Praise For…
---
"I love pancakes more than life itself, so when I first opened Adrianna's beautiful cookbook, I knew I'd found my pancake bible. From basic Buttermilk Pancakes (perfection!) to luscious Carrot Cake, Ginger Pear, and Maple Bacon options--absolutely no pancake stone is left unturned! A section of savory pancakes (Jalapeno Corn Cakes, anyone?) is a delightful bonus, and the gorgeous photos pull you into every page. This book is a pancake-lover's dream." —Ree Drummond, New York Times bestselling author of The Pioneer Woman Cooks
"Adrianna's Pancakes: 72 Sweet and Savory Recipes for the Perfect Stack is a heartfelt love letter to the ultimate comfort food. The pancake's flexible medium makes for inventive and artful recipes that I cannot wait to gobble up -- hello, Banana Bourbon Pancakes?! -- and her personable tone is the perfect accompaniment for more experimental recipes (read: Beet Crepes). I cannot wait to get my mitts on her Duck Fat Corn Cakes. Yum." —Alison Feldmann, Editor-In-Chief of Etsy.com
"I'm a firm believer that nearly all of my favorite dishes have a pancake version hidden within them. This book brings those dreams to life with Carrot Cake Pancakes and Mac and Cheese Cakes. Pancakes: 75 sweet and savory recipes for the perfect stack is creative comfort... drenched in maple syrup." —Joy Wilson, Joy the Baker blog