The New Jewish Table: Modern Seasonal Recipes for Traditional Dishes (Hardcover)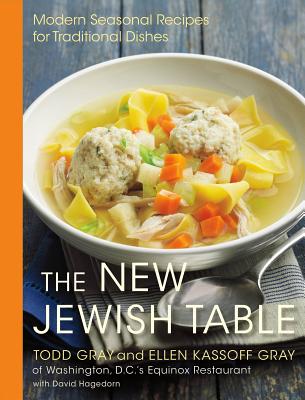 $35.00

Special Order—Subject to Availability
Description
---
The New Jewish Table explores the melding of two different cooking cultures, seasonal American and Eastern-European Jewish, sharing the mouth-watering recipes that result from this flavorful union from authors, chef Todd Gray and his wife Ellen Kassoff Gray. More than a love story about what one can do with fresh ingredients, Todd and Ellen talk about the food they grew up with, their life together, and how rewarding the sharing of two people's traditions—and meals—can be. When Chef Todd married his wife, Ellen, who is Jewish, their union brought about his initiation into the world of Jewish cooking. In 1999, Todd combined his love for farm-to-table ingredients with his passion for Jewish cuisine, opening the acclaimed Equinox Restaurant in Washington, D.C.
With more than 125 recipes including reinterpretations of traditional Jewish favorites made with fresh, seasonal ingredients, from Yukon Gold and Sweet Potato Latkes, Ellen's Falafel with Pickled Vegetables and Minted Lemon Yogurt, and Roasted Heirloom Beets with Capers and Pistachios, to Matzo-Stuffed Cornish Game Hens, Fig and Port Wine Blintzes, and Chocolate Hazelnut Rugelach, there are recipes for every occasion that the entire family will enjoy.
About the Author
---
TODD GRAY is a five-time James Beard Award nominee. He graduated with honors from the Culinary Institute of America and has cooked with some of the nation's top chefs. Both he and Ellen co-own and operate Equinox Restaurant, Muse at the Corcoran Gallery of Art, and Hamill Gray Catering. Todd is also the culinary director for Salamander Hotels and Resorts and The Ronald Reagan Building and International Trade Center.
ELLEN KASSOFF GRAY co-owns and operates Equinox, Muse at the Corcoran Gallery, and Hamill Gray Catering with her husband Todd Gray, and is an award-winning General Manager for all their operations. She is a member of Les Dames d'Escoffier and has received the Women Chefs and Restaurateurs Golden Fork Award for Front-of-the-House Excellence.
DAVID HAGEDORN currently is a food columnist for The Washington Post. He attended Georgetown University's School of Foreign Service and The Johns Hopkins School of Advanced International Studies. Eschewing the diplomatic field, he entered the restaurant business, enjoying a twenty-five-year career as a chef and restaurateur before becoming a food writer.
Praise For…
---
"You'll find recipes for refined, elegant dishes that reflect the classic culinary training of chef Todd Gray. . . . While all the recipes aren't necessarily "Jewish," per se, the ones that are have a chef's touch . . . The Grays' culinary journeys are interspersed throughout, and I believe it's one that many readers--Jewish or not--can probably relate to. And the fact that chef Gray isn't Jewish hasn't stopped him from embracing his wife's Jewish background. It really doesn't get more modern than that." —Esther Sung, Epicurious.com
"The Grays remake the much-maligned gefilte fish into a desirable dish with lemon, herbs and three types of fresh fish." —Modern Luxury DC
"Jewish table by 'blending' tastes and histories...this book has a very personal and inviting feel, asking the reader to focus on enjoying the food." —Publisher's Weekly
"Fresh and appealing, this book reflects a unique blend of traditions. Great for families interested in contemporary Jewish cuisine. Highly recommended." —Library Journal
"Filled with the lore of Ellen's family's passion for Jewish food and Todd's youthful explorations of Pennsylvania-Dutch cuisine and his chef's training, The New Jewish Table is a delightful blending of recipes, tips, and tales, with the culinary traditions that nurtured both, reinterpreted for everyone to cook in Todd's sure and professional hand." —Joan Nathan, author of Jewish Cooking in America and Joan Nathan's Jewish Holiday Cookbook
"The New Jewish Table has found an open and eager spot in my kitchen! A refreshing take on Jewish food, that is wholesome at the same time as scrumptious. With an emphasis on a seasonal approach, it offers a load full of ideas for everyday meals as well as how to give a much needed lift to Holiday menus. As I was flipping the pages of the cookbook and jotting down which recipe I want to try first, I gave up: I want to try them all." —Pati Jinich, host of the PBS's series Pati's Mexican Table, cooking teacher, food writer and official Chef of the Mexican Cultural Institute in Washington, DC
"Todd and Ellen Gray's Equinox Restaurant is a perfect balance between one of Washington's best chefs and one of its warmest hosts, and whether you're a Virginia homeboy like him or a city-bred Jewish girl like her, these elegant, seasonally-sensitive and clan-friendly recipes will make you feel you're mishpacha – or, as they say in the Old Dominion, "Fam'ly." Mazel tov! to them, and good eats for the rest of us." —Todd S. Purdum, national editor, Vanity Fair, and previously award-winning journalist The New York Times
"With this book, Todd and Ellen show us how creative chefs are preserving food memories from their cultural background by incorporating them into modern American recipes." —Nora Pouillon, chef and owner of Restaurant Nora and author of Cooking with Nora