We're following all official guidelines to keep ourselves healthy on the job, and as a result, shipping may be delayed.
You will receive an email from our web orders team confirming that your order has been processed.
We thank you for your support and your patience at this challenging time.
The Girl at the Baggage Claim: Explaining the East-West Culture Gap (Vintage Contemporaries) (Paperback)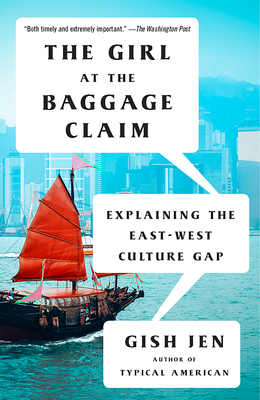 Description
---
As East and West become more and more entwined, we also continue to baffle one another. What's more important—self-sacrifice or self-definition? Do we ultimately answer to something larger than ourselves—a family, a religion, a troop? Or is our mantra "To thine own self be true"?
 
Gish Jen, drawing on a trove of personal accounts and cutting-edge research, shows how our worldviews are shaped by what cultural psychologists call "independent" and "interdependent" models of selfhood. Coloring what we perceive, remember, do, make, and tell, imbuing everything from our ideas about copying to our conceptions of human rights, these models help explain why the United States produced Apple while China created Alibaba—and what that might mean for our shared future. As engaging as it is fascinating, The Girl at the Baggage Claim is a book that profoundly transforms our understanding of ourselves and our time.
About the Author
---
Gish Jen is the author of four novels, a book of stories, and a previous book of nonfiction, Tiger Writing: Art, Culture, and the Interdependent Self. Her honors include the Lannan Literary Award for fiction, the Mildred and Harold Strauss Living Award from the American Academy of Arts and Letters, and fellowships from the Guggenheim Foundation, the National Endowment for the Arts, the Radcliffe Institute for Advanced Study, and the Fulbright Foundation. She is also a fellow of the American Academy of Arts and Sciences, and lives with her husband and children in Cambridge, Massachusetts.

www.gishjen.com
Praise For…
---
"Both timely and extremely important." —The Washington Post 

"Wise, impeccably researched, beautifully written, and vitally important. . . . Gish Jen brings a novelist's understanding heart and a scholar's appreciation." —The Huffington Post

"A fascinating, brilliant book that gripped me from page one. . . . A tour de force by one of the most insightful writers of our time." —Amy Chua, author of Battle Hymn of the Tiger Mother
 
"A deep psychological examination of how place, habits, and identity mix in our world. Tremendous!" —Yo-Yo Ma

"Fascinating . . . Rich with examples of the contrast between Asian Society and our own. . . . She is onto something that the typical American may become aware of as we bump into people unlike ourselves—from other cultures, not limited to Asians." —St. Louis Post-Dispatch

"The qualities of carefully rendered fiction shine through in [Jen's] book, turning a study of culture and psychology into an engaging narrative. Whether in commerce, diplomacy, or travel, readers can take away memorable insights into how identity and context shape worldviews." —Popmatters

"Jen holds up a comprehensive and scholarly mirror to both worldviews—and be warned: Her mirror is honest, and at times provocative." —BookPage

"I honestly can't overstate how fascinating I found this book. It's shaken (in the best possible way) some of my basic assumptions about being a Self." —Jason Gots, producer of Big Think

"In her trademark lively and witty prose, Gish Jen not only limns non-Western views of the self but questions whether the Western self is really a natural way to be. A powerful, provocative work." —Michael Puett, professor of Chinese history, Harvard University

"Truly eye-opening and thought-provoking." —Eric Lander, president and founding director of the Broad Institute of Harvard and M.I.T.

"Gish Jen draws on personal experience, interviews with experts, and her astute reading of both literature and social science to illuminate the crucial question of self in culture. . . . The Girl at the Baggage Claim is remarkable and fluent but, most of all, essential." —Sherry Turkle, author of Reclaiming Conversation: The Power of Talk in a Digital Age

"Insightful, far-reaching and a joy to read. . . . The Girl at the Baggage Claim answered questions I've been asking my whole life." —David Henry Hwang, playwright of M. Butterfly

"This book gives special proof to the belief that our best novelists are also our best psychologists. With characteristic wit and unfailing insight, Gish Jen creates a genre all her own—uniquely universal, deeply serious, and unselfconsciously joyous." —Maryanne Wolf, author of Proust and the Squid: The Story and Science of the Reading Brain

"A beautifully observed book . . . poignantly captures the personal tussle between independence and interdependence so many of us are caught in. A must read for anyone navigating the East-West divide." —Priya Natarajan, author of Mapping the Heavens: The Radical Scientific Ideas That Reveal the Cosmos