We're following all official guidelines to keep ourselves healthy on the job, and as a result, shipping may be delayed.
You will receive an email from our web orders team confirming that your order has been processed.
We thank you for your support and your patience at this challenging time.
This Old Man: All in Pieces (Paperback)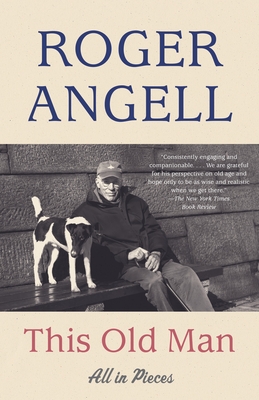 $16.95
Not On Our Shelves—Ships in 1-5 Days
Description
---
Roger Angell, the acclaimed New Yorker writer and editor, steps up with a selection of writings that celebrate a view from the tenth decade of an engaged, vibrant life. Whether it's a Fourth of July in rural Maine, the opening game of the 2015 World Series, editorial exchanges with John Updike, a letter to a son, or his award-winning essay on aging, "This Old Man," what links the pieces is Angell's unique perceptions and humor, his utter absence of self-pity, and his appreciation of friends and colleagues encountered over a fruitful career unlike any other.
About the Author
---
Roger Angell is a senior fiction editor and a longtime contributor with The New Yorker. His writings for the magazine include reporting, commentary, fiction, humor, film and book reviews, and, for many years, the magazine's Christmas verse, "Greetings, Friends!" His eleven books include such baseball classics as The Summer Game, Five Seasons, and Game Time, and, most recently, a memoir, Let Me Finish. His awards include a George Polk Award for Commentary; the Michael Braude Award for Light Verse, presented by the American Academy of Arts and Letters; a PEN/ESPN Lifetime Achievement Award for Literary Sports Writing; and the J. G. Taylor Spink Award, the highest honor given to writers by the Baseball Hall of Fame. His New Yorker piece "This Old Man" won the 2015 prize for Essays and Criticism awarded by the American Society of Magazine Editors. He is a member of the American Academy of Arts and Letters. Mr. Angell lives in New York and Maine.
Praise For…
---
"[Angell's] prose is bright and conversational and almost infinitely elastic.... Like V. S. Pritchett, his own "bottomless reading" seems never to have dulled "the eagerness of his mind," or the bounce and velocity of his prose, which, like Updike's, possesses a gravity-defying "lift and lightness and intelligence." Perhaps most of all, Mr. Angell — like Updike and White — is a "prime noticer": a sharp-eyed collector of details, gathered over the course of nearly 10 decades, and dispensed here, with artistry and élan, in these jottings from a long and writerly life."
—Michiko Kakutani, The New York Times

"[I]rresistible.... Angell is neither an aphoristic nor overtly flashy writer. His virtues are those of close observation and considered reflection, careful accretion of detail and argument, and a prose style whose ambling grace belies its lean economy." 
—San Francisco Chronicle 

"There is a certain generosity operating here, an assumption of friendship between reader and writer, the way one is pleased to hear what a friend has to say no matter what the occasion.  In inviting us to rummage through his literary files, Angell proves almost consistently engaging and companionable.... [W]e are grateful for his perspective on the kingdom of old age and hope only to be as wise and realistic when we get there." 
—Phillip Lopate, Times Book Review

"Angell's a true craftsman, carefully picking each word and phrase and, like any good editor, cutting out the fluff.... What stitches together the collection is a sense of gratitude.... It feels like he assembled this collection in great part to say thank you. But it's his readers who should be saying it. For as long as we have him and as long as he's still contributing to The Sporting Scene and other fixtures of The New Yorker, we should appreciate his talent."
—The Washington Post

"[A] wonderfully scattershot collection of letters, essays, and (yes!) blog posts. But what seem to be odds and ends, literary leftovers, are revealed to be mortar of a writing life.... They are essential. I want to talk to him about baseball, and writing, and what he was doing at my age, and how he made it from there to here. I want to hear the things he's said a thousand times."
—GQ

"[L]ucid, humane, and insightful.... Perhaps most surprising is the suppleness and range of his writing.... [Angell] moves with agility between humor, pathos, and playful metaphor, often within the same essay."
—Christian Science Monitor

"[Angell's] reflections and commentary brim with steadfast wisdom and are possibly more nuanced than ever. [T]his is a uniformly engaging and eloquent selection that attests to a full life well lived."
—Chicago Tribune

"This Old Man is as profound a meditation on time and loss as some of the work of Angell's revered stepfather, E.B. White.... As Angell tells it straight, it's not much of a pleasure to be very old, but it is a great pleasure to spend time in the company of This Old Man."
—Fresh Air's Maureen Corrigan

"Sublime… a charming addition to an estimable—and time-tested—career. This Old Man is a winning collection of miscellany from his later years at The New Yorker, which hired him in 1956 and continues to publish his work."
—Daily Beast 

"If you're blessed with a nonagenarian father, grandfather or uncle who's still got all his marbles, has lived among the best in the worlds of sports, literature and art, and has a knack for anecdotal storytelling, light verse, illustration and brief eulogies, consider yourself very, very lucky. If you aren't, long time New Yorker writer and author of countless articles and a dozen books (The Summer Game,A Pitcher's Story) Roger Angell is a perfect stand-in." 
—Shelf Awareness 

"Angell modestly describes the book as 'A mélange, a grab bag, a plate of hors d'oeuvres, a teenager's closet, a bit of everything'.... But readers are likely to zip through the book, front to back. Angell writes in a clear, precise style that never loses its conversational tone or its ability to entertain. With prose this good, you're unlikely to find yourself skipping pages."
—Richmond Times

"Whether you are interested in sports in particular, human events in general or anything else, Angell will hold you to his subject like a limpet."
—The Virginian Pilot 

"[W]onderful.... [G]emlike.... The most trivial stuff in it is still delightful. And the great stuff in it – the title piece for instance – is classic." 
—Buffalo News

"[R]emarkable. . . . Any reader will benefit from meandering the fascinating corridors of this old man's mind."
—Lincoln Journal Star

"[A] 'choose-your-own-adventure' book for adults. And what an adventure it is."
—Fredericksburg Free-Lance Star

"A miscellany of memorable prose....notable for its grace, wit, and humanity.... As this ebullient and eloquent collection amply shows, Angell can deftly touch that reader, on whom he bestows this lovely gift." 
—Kirkus (Starred Review) 

"[E]very entry, long or short, light or serious, is united by seemingly effortless, finely wrought, remarkably observant, offhandedly eloquent yet always self-effacing prose.... [H]is tone is never, e­ver maudlin, never sentimental, and never, ever inspirational. Instead, it is above all wry."  
—Booklist (Starred Review)
 
"At 94, Angell is a witness to history but hardly a relic of the past.... Angell is equally at ease writing annual Christmas poems, witty internal memos, letters, haiku, speeches, literary essays, and "casuals".... Angell represents the best sort of writing about the remembrances of the past." 
—Publishers Weekly (Starred Review)