The Invoice: A Novel (Hardcover)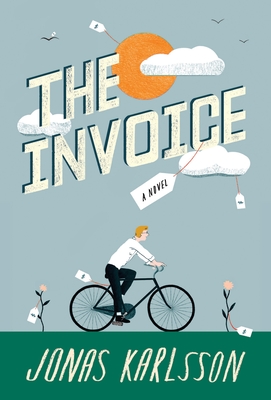 $24.00

Special Order—Subject to Availability
Description
---
A heartfelt exploration of the cost of life and love—and the importance of the little things—from the author of the international bestseller, The Room

Hilarious, profound, and achingly true-to-life, The Invoice explores the true nature of happiness through the eyes of hero you won't soon forget. A passionate film buff, our hero's life revolves around his part-time job at a video store, the company of a few precious friends, and a daily routine that more often than not concludes with pizza and movie in his treasured small space in Stockholm. When he receives an astronomical invoice from a random national bureaucratic agency, everything will tumble into madness as he calls the hotline night and day to find out why he is the recipient of the largest bill in the entire country.

What is the price of a cherished memory? How much would you pay for a beautiful summer day? How will our carefree idealist, who is content with so little and has no chance of paying it back, find a way out of this mess? All these questions pull you through The Invoice and prove once again that Jonas Karlsson is simply a master of entertaining, intelligent, and life-affirming work.
About the Author
---
JONAS KARLSSON writes plays and short fiction. One of Sweden's most prominent actors, Karlsson has performed on Sweden's premier stage and in several acclaimed feature films and television series. In 2005, Karlsson made his debut as a playwright, earning rave reviews from audience and critics alike. Spurred by the joy of writing for the stage, Karlsson began writing fiction. His debut novel, The Room, was in international bestseller.
Praise For…
---
International Praise for The Invoice:

"A fanciful escape from everyday life."
– New York Post

"The unassuming hero of Jonas Karlsson's clever, Kafkaesque parable is the opposite of a malcontent…The Invoice explores how we define a happy life through the trials of another plain-spoken everyman teetering between banality and absurdity. Both of [his] novels, as tightly constructed as theatrical plays, are laced with incisive criticism of our soul-sapping world of coldblooded bureaucracy. Karlsson expertly wrings humor from the contrast between the bizarre, increasingly alarming circumstances in which his narrators find themselves and their low-key, matter-of-fact responses."
–NPR.org        

"A thought-provoking existential comedy." 
– Shelf Awareness

"A fable for the ages. [The Invoice] should be read alongside The Trial and Nineteen Eighty-Four as an antidote."
–Kirkus

"Karlsson's story recalls the work of Jorge Luis Borges and Franz Kafka, if those two had been, well, happy. The narrator, an affable fellow at loose ends, understands his uncluttered life better than he thinks he does, and the author's sympathetic portrayal of him, as well as the mirror his experience holds to an increasingly Byzantine and humorless society, wins the day."
—Publishers Weekly

"[E]ntertaining, thought-provoking and delivered with a good humor that makes it hard to resent its irrepressible hero."
–The Guardian, UK
 
"Karlsson's wry, whimsical novel excels at describing the simple pleasures of everyday life: it's as if Kafka decided to look on the bright side."
–Mail on Sunday, UK
 
"A spectacular little book ... a small gem full of humor."
–Livrés Hebdo, France
 
"Jonas Karlsson has written a flawless portrait of a happy, lazy rebel." 
–Libération, France
 
"[In The Invoice] you will find the humorous surrealism of Amélie Nothomb, the intrusive bureaucracy of George Orwell and the desperate fates Kafka's characters suffered. Much more than just a pamphlet on our society's obsession with money, this novel is a clever tale of happiness."
–Gael, France
 
"Jonas Karlsson delivers a brilliant story."
–Version Fémina, France