We're following all official guidelines to keep ourselves healthy on the job, and as a result, shipping may be delayed.
You will receive an email from our web orders team confirming that your order has been processed.
We thank you for your support and your patience at this challenging time.
I Almost Forgot About You: A Novel (Paperback)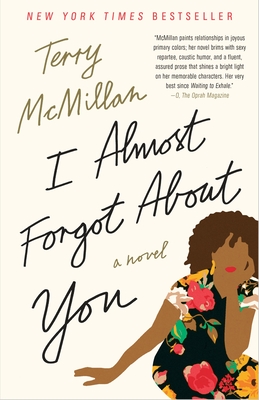 Description
---
NEW YORK TIMES BESTSELLER • The bestselling author of How Stella Got Her Groove Back and Waiting To Exhale is back with the inspiring story of a woman who shakes things up in her life to find greater meaning

NAMED ONE OF THE BEST BOOKS OF THE YEAR BY LIBRARY JOURNAL

In I Almost Forgot About You, Dr. Georgia Young's wonderful life—great friends, family, and successful career—aren't enough to keep her from feeling stuck and restless. When she decides to make some major changes in her life, including quitting her job as an optometrist and moving house, she finds herself on a wild journey that may or may not include a second chance at love. Georgia's bravery reminds us that it's never too late to become the person you want to be, and that taking chances, with your life and your heart, are always worthwhile.
 
Big-hearted, genuine, and universal, I Almost Forgot About You shows what can happen when you face your fears, take a chance, and open yourself up to life, love, and the possibility of a new direction. It's everything you've always loved about Terry McMillan.

Praise for I Almost Forgot About You

"McMillan paints relationships in joyous primary colors; her novel brims with sexy repartee, caustic humor, and a fluent, assured prose that shines a bright light on her memorable characters. Her very best since Waiting to Exhale."—O: The Oprah Magazine

"The novel is immensely companionable, and Georgia is as alive, complex, inquiring, motivated and sexy as any twenty-five-year-old. Maybe more so."—The New York Times Book Review

"Self-discovery, second chances and the importance of family are thematic hallmarks of McMillan's novels. . . . I Almost Forgot About You checks all the boxes."—Washington Post

"McMillan is funny and frank about men, women and sex. Her summaries of Georgia's marriages and major love connections . . . are powerful and poetic."—USA Today

"Reading a Terry McMillan book feels like catching up with an old friend. . . . I Almost Forgot About You is a book that is important for readers of every age."—Ebony
About the Author
---
Terry McMillan is the #1 New York Times bestselling author of Waiting to Exhale, How Stella Got Her Groove Back, A Day Late and a Dollar Short, andThe Interruption of Everything and the editor of Breaking Ice: An Anthology of Contemporary African-American Fiction. Each of Ms. McMillan's seven previous novels was a New York Times bestseller, and four have been made into movies: Waiting to Exhale (Twentieth Century Fox, 1995); How Stella Got Her Groove Back (Twentieth Century Fox, 1998); Disappearing Acts (HBO Pictures, 1999); and A Day Late and a Dollar Short (Lifetime, 2014). She lives in California.
Praise For…
---
"McMillan is a gifted storyteller… The cast of characters enriches the narrative, bringing nuance and clarity to scenes and moving the plot along…. Georgia's story reminds readers who have clocked a lot of living that it's never too late to reconnect and reflect on the past as they craft the future they want."—Fort Worth Star Telegram

"The ripple effects from Terry McMillan's breakthrough in contemporary African-American fiction still influence our daily lives... [I Almost Forgot About You is] much in the same vein of McMillan's other novels that track Black women's journeys through self-discovery."—BLAC Detroit

"McMillan is a master at her craft. Without a doubt, this book will be a hit with anyone who feels stuck in life and is ready to make a move. McMillan has done it again. Get this book and read about Georgia's journey. This is another book that should be on everyone's reading list."—The Baton Rouge Advocate

"In I Almost Forgot About You, McMillan gives us a story about the possibility of change at any age couched in her customary vivacious prose and lush portrayals of character and relationships. Watching 50-something Georgia slowly reinvent herself and find lasting love along the way is a joy to behold. Here is a deeply felt, deeply courageous novel about the courage to face yourself and your past to discover—and create—the future you want for yourself."—The Root

"The reader finds herself torn between gritting her teeth at how right McMillan gets the relationships between best friends, ex-spouses, ex-lovers, parents and children and putting the book down to laugh out loud. Run, don't walk and pick up this exuberant summer read."—BookPage

"Nobody does female reinvention better than McMillan… another winner for McMillan's groaning bookshelf of hits."—AARP magazine
 
"McMillan has written an engaging novel with an appealing cast of women... This near-perfect choice for women's book club discussions will prompt arguments of what makes a guy too good to be true. Stock up with multiple copies." –Library Journal (starred review)

"Terry McMillan's novels have always been about telling the uncensored truth about friends, family, lovers, and oneself.  Through addictively revealing conversations – including an instructive one about the sexual prowess of men who made the A list – McMillan's narrator is the ideal running commentator on what smart women do to reach the pinnacle of success and what they must do to get the hell out before it's too late. It's a story about both reinvention and acceptance, told in McMillan's quintessential voice, now even more expansive, prismatically perceptive, and laugh-aloud generous in how we talk about love and all its wonders."—Amy Tan, New York Times bestselling author of The Joy Luck Club and The Valley of Amazement

"One of my favorite authors since I read Waiting to Exhale in college, Terry McMillan has done it again with this one. Overflowing with her trademark heart and humor, I Almost Forgot About You will inspire you to live a little bigger. I wish Georgia weren't fictional—I would find her and befriend her." —Emily Giffin, #1 New York Times bestselling author of First Comes Love and Something Borrowed

"The warmth and wisdom we have come to expect from Terry McMillan are on full display and you won't be able to walk away from Georgia and her exuberant life. This is that thrilling kind of novel that reminds us how sometimes, fairy tales happen when we least expect them, if only we open ourselves to possibility."—Roxane Gay, New York Times bestselling author of Bad Feminist and An Untamed State