DuckTales Adventurer's Guide: Explorer Skills and Outdoor Activities for Daring Kids (Hardcover)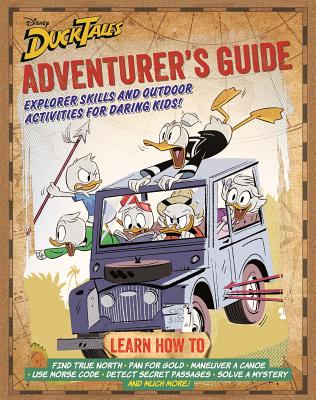 Out of Print in This Format
Description
---
This fun, adventurous guide will show kids how to explore, play and create in new and exciting ways. Inside they'll find guidelines for writing secret codes, building a spyglass, walking silently, identifying animal tracks, tying knots, detecting secret doors and passages, reading maps, building explorer kits for various environments, learning foreign language basics, and much more, all with thehelp of Uncle Scrooge and his adventurous nephews, Huey, Dewey and Louie, as well as Webby Vanderquack and Launchpad McQuack. Readers will also find dozens of fun activities and challenges to play with friends, from capture the flag and wilderness scavenger hunts to obstacle courses.
Full color illustrations throughout make this a quack-tastic book for kids and DuckTales fans of all ages.
About the Author
---
The editors at Media Lab Books publish branded children's books that cover a wide variety of categories and topics including general interest, cookbooks, coloring books, history, games, activity books and reference. Our brand partners include Disney, WWE, Nickelodeon, DreamWorks, Mother Goose Club, Wild Kratts, Jack Hanna, and many others.