We're following all official guidelines to keep ourselves healthy on the job, and as a result, shipping may be delayed.
You will receive an email from our web orders team confirming that your order has been processed.
We thank you for your support and your patience at this challenging time.
You Won't Remember This (Paperback)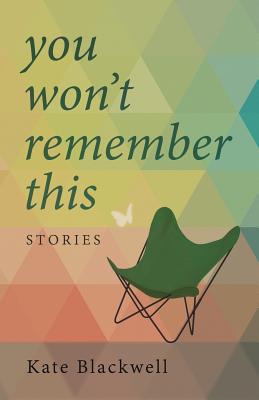 $12.99
Not On Our Shelves—Ships in 1-5 Days
Description
---
The twelve stories in Kate Blackwell's debut collection illuminate the lives of men and women who appear as unremarkable as your next-door-neighbor until their lives explode quietly on the page. Her wry, often darkly funny voice describes the repressed underside of a range of middle-class characters living in the South. Blackwell's focus is elemental-on marriage, birth, death, and the entanglements of love at all ages-but her gift is to shine a light on these universal situations with such lucidity, it is as if one has never seen them before. In "My First Wedding," a twelve-year-old girl attends her cousin's Deep South wedding, where she discovers both mystery and disillusionment and, in the end, finds she's not immune to her family's myth of romantic love. In "Heartbeatland," when a young woman's husband dies suddenly, she refuses to sell his Jeep to an importuning gay neighbor. The more she clings to the Jeep-and to the memory of her beloved David-the more he becomes someone she doesn't recognize. In "Queen of the May," a former belle looks for ways to assuage her loneliness in her large new house in the empty Carolina sandhills.
Praise For…
---
"Kate Blackwell is a wonderful and very perceptive writer who knows more about love, and more about loss, than most of us ever will. These stories about all sorts of Southern men and women are both funny and sad, and always subtly but deeply sympathetic." - Alison Lurie, author of Foreign Affairs

"Kate Blackwell has what Flannery O'Connor called 'a talent for humanity.' In each story, she looks at life with a direct gaze and writes in elegant, measured tones with beautiful, melancholy humor. The collection surely derives its honesty and power and music from the great Southern tradition—but in its sheer comprehension and passion, it is universal as well." - Howard Norman, author of The Bird Artist

"Throughout this fine first collection, there is a fascinating tension between limpid prose and incisive truth. Kate Blackwell tends to deal with secrets—an unfulfilled desire, a denied knowledge, a hidden love. She writes with especial power and insight about the parts of themselves women give up—or bury—when they marry." - Joyce Johnson, author of Minor Characters

"You most definitely WILL remember this extraordinary collection. All of Blackwell's finely crafted stories move as easily as an overheard conversation about what is too often hushed in the human heart." - Robert Bausch, author of Far as the Eye Can See

"If Blackwell has one unifying theme, it's how ritual both distances people and enables them to live together. This shrewd collection should appeal to fans of contemporary Southern short story masters like Tim Gautreaux and John Biguenet." - Publishers Weekly

"Engaging characters face the tangles of life—marriage, adultery, malfeasance, aging, pregnancy—in this adroit debut collection. Twelve finely crafted stories, based in the South, are grounded in the ordinary yet clarify nuances with intimate angles."- Booklist

"With this short-story collection, Kate Blackwell enters the company of contemporary writers–Anne Tyler and Roxana Robinson come to mind–who plumb these shadowy, silent dramas." – Dallas Morning News

"HOW do writers do it? How do they take the same tiresome human dramas and make us care, make us wonder how it will turn out this time? In the first story in this debut collection, "My First Wedding," the narrator asks, "For who will remember women like my mother, my aunt, and Augusta? Who will remember any of us who live so hidden, so far from nearly everything?" The details of their lives, like those of many of Kate Blackwell's middle-class women, are familiar to the point of invisibility. But something inside them struggles to get out." – L.A. Times

"Blackwell's stories are jewels, each polished and tweaked to perfection, characters vividly rendered and plots as tightly wound as watch springs." – Baton Rouge Advocate

"Blackwell's collection of 12 stories may be one of the best books of the year." – The Clarion Ledger

"You Won't Remember This, the first book of short stories by Kate Blackwell, a Winston-Salem native, is one of the finest collections I've read, and, in my work, I am privileged to read many. Blackwell's wisdom and subtlety are evident even in the title. By telling us we won't remember, she ensures that we do. . . ." – Winston-Salem Journal

". . . the kind of truth that fiction gets at best." – The Raleigh News & Observer

"These stories reveal an exceptional, well- crafted talent that invites us into places and the lives of characters the reader would not otherwise have access. These are edgy lives filled with conflict and tension, stories that span decades. This book is a real treat for anyone who loves good writing." – Bookviews


"Life, death, birth, marriage, divorce, travel, isolation—all of our rituals and even our secret selves are embodied in this insightful and graceful collection." - The Advocate

"Depending on a particular story's slant, the book's title is a command or a consolation—or an amalgam. Whatever the tonal shifts, Blackwell's images are uniformly sensuous and painterly." - The Georgia Review