Toward a New World: Speeches, Essays and Interviews on the War in Iraq, the U.N. and the Changing Face of Europe (Paperback)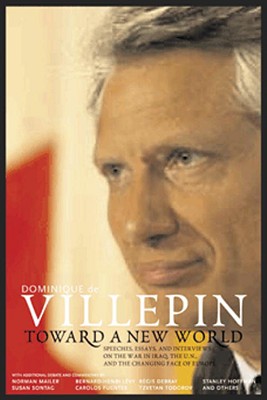 $18.95
Special Order—Subject to Availability
Description
---
His speeches caused an uproar—and now seem eerily prescient...
"The stakes transcend the case of Iraq alone. Let us look at things lucidly: We are defining a method to resolve crises. We are choosing to define the world we want our children to live in. . . The use of force can arouse rancor and hatred, fuel a clash of identities, of cultures—something that our generation has, precisely, a prime responsibility to avoid."

When France's Dominique de Villepin spoke out in the United Nations in early 2003 against the impending war in Iraq—warning that the US plan for unilateral attack would only lead to devastating and long-lasting chaos—his passionate reasoning and beautifully crafted speeches caused an uproar. . . and won him a large and admiring American audience.

But the rest of the world has long been familiar with the speeches of the scholar, poet, and statesman who has become such a dominant figure in European politics.

Villepin's addresses to the European Union, for example, are some of the most stirring and edifying descriptions yet of that emerging—and, in the US, little examined—economic superpower. He has likewise become renowned for his talks about terrorism, proliferation, the conflict between Israel and Palestine, and the role of the UN.

TOWARD A NEW WORLD collects his most important speeches, interviews, and essays on those topics. But it is more than a primary documentation of critical recent history. Also included are commentaries from some of the world's leading intellectuals, making the book an exciting call to consider—as does Villepin himself—that the tumultuous changes sweeping the globe may yet be cause for hope.
About the Author
---
DOMINIQUE DE VILLEPIN was born in Morocco and was raised in Latin America. His lyrical texts and passion for France won him numerous awards for his book about the last 100 days of Napoleon's rule, Les Cent-jours, ou L'esprit de sacrifice. Villepin came into the international spotlight as Foreign Minister with his opposition to the 2003 invasion of Iraq, which culminated with a speech to the United Nations