Todos Iguales/All Equal: Un Corrido de Lemon Grove/A Ballad Of Lemon Grove (Hardcover)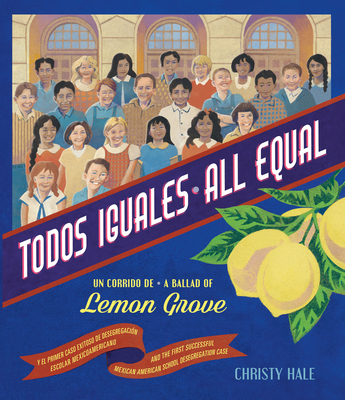 $19.95
In Stock—Click for Locations
Description
---
The empowering true story of the 1931 Lemon Grove Incident, in which Mexican families in southern California won the first school desegregation case in United States history.
Twelve-year-old Roberto lvarez loved school. He, his siblings, and neighbors attended the Lemon Grove School along with the Anglo children from nearby homes. The children studied and played together as equals. In the summer of 1930, the Lemon Grove School Board decided to segregate the Mexican American students. The board claimed the children ha...language handicap and needed to be Americanized. When the Mexican families learned of this plan, they refused to let their children enter the small, inferior school that had been erected. They forme...eighborhood committee and sought legal help. Roberto, an excellent student who spoke English well, became the plaintiff i...uit filed by the Mexican families. On March 12, 1931, the case of Roberto lvarez v. the Board of Trustees of the Lemon Grove School District was decided. The judge ruled in favor of the children's right to equal education, ordering that Roberto and all the other Mexican American students be immediately reinstated in the Lemon Grove School. The Lemon Grove Incident stands a...ajor victory in the battle against school segregation, an...estament to the tenacity of an immigrant community and its fight for educational equality.
About the Author
---
CHRISTY HALE has illustrated numerous award-winning books for children, including Dreaming Up: A Celebration of Building and several other titles for Lee & Low Books. As an educator, Hale currently teaches picture book writing at the Academy of Art University in San Francisco. She has also taught art and graphic design to high school students, and first learned about the Lemon Grove case at an in-service teacher workshop. Hale and her husband live in Palo Alto, California. You can visit her online at christyhale.com.