The Morning They Came For Us: Dispatches from Syria (Hardcover)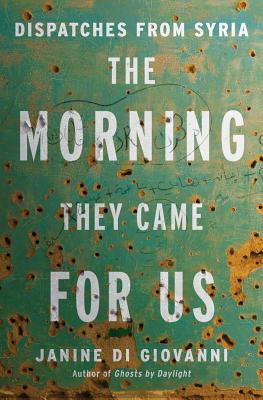 $25.95
Not On Our Shelves—Ships in 1-5 Days
Description
---
Once in a decade comes an account of war that promises to be a classic.
Doing for Syria what
Imperial Life in the Emerald City
did for the war in Iraq,
The Morning They Came for Us
bears witness to one of the most brutal, internecine conflicts in recent history. Drawing from years of experience covering Syria for
Vanity Fair, Newsweek
, and the front pages of the
New York Times
, award-winning journalist Janine di Giovanni gives us a tour de force of war reportage, all told through the perspective of ordinary people—among them a doctor, a nun, a musician, and a student. What emerges is an extraordinary picture of the devastating human consequences of armed conflict, one that charts an apocalyptic but at times tender story of life in a jihadist war zone. Recalling celebrated works by Ryszard Kapus´cin´ski, Philip Gourevitch, and Anne Applebaum,
The Morning They Came for Us
, through its unflinching account of a nation on the brink of disintegration, becomes an unforgettable testament to resilience in the face of nihilistic human debasement.
About the Author
---
Janine di Giovanni, Middle East editor of Newsweek and contributing editor at Vanity Fair, has won seven major awards, including the National Magazine Award and two Amnesty International Awards. Her work is widely anthologized, and her article from Harper's, "Life during Wartime," was chosen by Paul Theroux for The Best American Travel Writing. The author of seven books, di Giovanni is a graduate of the Iowa Writers' Workshop and the Fletcher School of Law and Diplomacy, where she was a Pakis Fellow. She lives in Paris.
Praise For…
---
Devastating . . . .  Like the work of the Belarussian Nobel laureate Svetlana Alexievich, Ms. di Giovanni's book gives voice to ordinary people living through a dark time in history; and like Anthony Shadid's powerful 2005 book, Night Draws Near (which recounted the aftermath of the American invasion of Iraq), it chronicles the intimate fallout that war has on women, children and families. A longtime reporter who covered the wars in Bosnia, Chechnya and Sierra Leone, Ms. di Giovanni writes here with urgency and anguish — determined to testify to what she has witnessed because she wants 'people never to forget.' . . . . Her testimony is contained here in this searing and necessary book.

— Michiko Kakutani

Necessary, difficult and elating. [Di Giovanni's] reporting from the Syrian revolution and war is clear-eyed and engaged in the best sense – engaged in the human realm rather than the abstractly political. . . . Such reporters as Giovanni, who not only visit but also live (and often die) through wars not their own, are heroic. These are the Marie Colvins, Paul Conroys, Ali Mustafas of journalism, reporters motivated by commitment to the act of witnessing.
— Robin Yassin-Kassab

Di Giovanni's work, informed by her extensive experience as a journalist, shows a keen ability to capture violent conflicts from multiple sides…This book, haunted by the international failure to intervene effectively, gives readers an on-the-ground experience of the devastating seasons that followed the promise of the Arab Spring…[Di Giovanni] makes its reality fully tangible and tragic.

With a potent mix of sensitivity and outrage, Di Giovanni relates firsthand accounts of deprivation and suffering from the people caught up in the conflict…[T]heir stories reveal in harrowing detail the horrific nature of the war. The expert perspective of this seasoned war correspondent proves invaluable to understanding Syria today.

[Di Giovanni] is a master of war reporting, especially its civilian side. Thanks to her bitter sacrifice, Western readers may begin to appreciate the chaos that Syrian refugees continue to flee. This brilliant, necessary book will hopefully do for Syria what Herr's Dispatches (1977) did for Vietnam.


Di Giovanni presents a devastating picture of the
horrors of civil war and the disintegration of Syrian society.
— Elizabeth Hayford

It is crucial to reveal the human stories behind the news – and in The Morning They Came for Us, Janine di Giovanni does this with heartbreaking eloquence…Her account of Syria is a testimony to the power of empathy, conscience and understanding.

— Elif Shafak