We're following all official guidelines to keep ourselves healthy on the job, and as a result, shipping may be delayed.
You will receive an email from our web orders team confirming that your order has been processed.
We thank you for your support and your patience at this challenging time.
An Infusion of Violets (Paperback)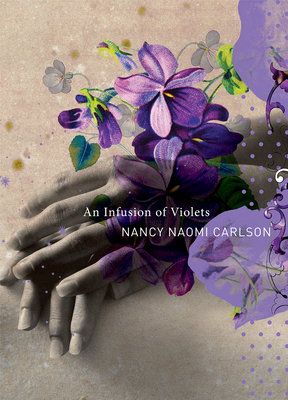 Description
---
Using the same musical sense of language she applies to her translations, Nancy Naomi Carlson masterfully interprets herself in An Infusion of Violets. The sometimes erotic, sometimes melancholy landscapes she creates as the self-appointed sitar's "ragged throat, pitched / between here and when, / caught in quartertones," take our breath away. Carlson describes an interior world where tears can produce "so much salt a body floats away," where "music tuned to loss descends with rain," and where hope is placed in the "kill-cure." Here we encounter Carlson's ex-husbands and luminaries such as Rachmaninoff and Monet, among others. Filled with striking images and sensuous language, An Infusion of Violets is an evocative mix of formal and free-verse poems.
 
About the Author
---
Nancy Naomi Carlson is a poet, translator, and editor based in Maryland. A recipient of a literature translation fellowship from the National Endowment for the Arts, she is also a senior translation editor for Tupelo Quarterly. 
Praise For…
---
"Carlson uses controlled lines and a lyrical voice to plumb the self, often with biblical overtones."
— New York Times
"The multifaceted Nancy Naomi Carlson delivers poetic riches in her third collection, spooling out lines that engage all the senses while weaving threads of spirituality, eroticism, and art into one rich tapestry. With poems that traverse that spectrum from formal to free, An Infusion of Violets offers readers an opportunity to join Carlson in the great conversation of poetry that effortlessly spans cultures, languages, and time."
— World Literature Today
"The title foretells the lushness of lines. As a translator, Carlson knows the value of the rarefied word - she makes decisions from other languages in terms of cadence and sound. This shows up in her careful and credible writing where each phrase is a result of a hard choice. . . . These poems, years in the writing, radiate inward. She's right to call it an infusion."
— Midwest Book Review
"Solitude and quiet strength run throughout the elegant, understated writing in 'An Infusion of Violets'."
— The Washington Post