Karankawa (Pitt Poetry Series) (Paperback)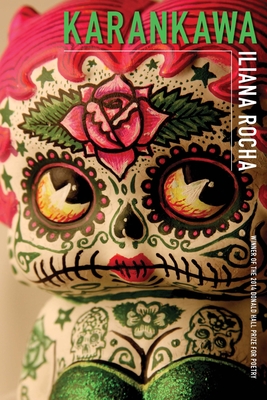 $17.00
Special Order—Subject to Availability
Description
---
Winner of the 2014 Donald Hall Prize for Poetry
Selected by Joy Harjo

Karankawa is a collection that explores some of the ways in which we (re)construct our personal histories. Rich in family narratives, myths, and creation stories, these are poems that investigate passage—dying, coming out, transforming, being born—as well as the gaps that also reside in our stories, for, as Rocha suggests, the opportunity to create myths is provided by great silences. Much like the Karankawa Indians whose history works in omissions, Karankawa reconfigures such spaces, engaging with the burden and freedom of memory in order to rework and recontextualize private and public mythologies. First and last, these are poems that honor our griefs and desires, for they keep alive the very things we cannot possess.
About the Author
---
Iliana Rocha is a PhD candidate in English with a creative writing emphasis at Western Michigan University. She earned her MFA in creative writing from Arizona State University, where she was poetry editor for Hayden's Ferry Review. Her work was chosen for the Best New Poets 2014 anthology and has appeared or is forthcoming in Blackbird, Yalobusha Review, Puerto del Sol, and Third Coast.
Praise For…
---
"These are the poems of a new fire. Raw fire makes a unique trail as it burns. They are fueled by a passionate, lyrical surrealism. This is a border politics kind of surrealism, emerging from a poetic sensibility in which there are no borders. This collection in essence embodies a fresh kind of creation story emerging from the Americas. It's like reading Rimbaud for the first time. We are struck by an unabashed presence of a fearless singer."
—Joy Harjo, judge
"There is feast enough here in Rocha's language, its sensuousness, its sass, its inventiveness, to delight any reader. These poems, rooted in the body and in Rocha's Texas landscape, imaginatively explore the stories of our origins and the constant transformation of the self. 'In your history, a tree is rebuilt,' she writes. A compelling and memorable book."
—Beckian Fritz Goldberg
"Iliana Rocha's Karankawa is radically honest poetry, never beyond belief, its clarities and mysteries mutually deepening.  In these diverse millennial visions arrive a fresh verse, and a vers, a "toward," from far within.  Harrowing revelations that begin then end with the body, brothers and fathers, transfiguring drag queens, broken friends, lost loves, all of us, here, now, creation's numberless beginnings."
—William Olsen
"Rocha's first collection of poems is memorable for a streaming imagery that carries us toward a shocking ancestral knowledge that is both intimate and a shout like the old song calling of the Apache. This work is so very strong in terms of the clarity of the messenger and an essential language like telegraph. This is an important and highly original collection of poems. A wonderful book!"
—Norman Dubie