Fighting to Preserve a Nation's Soul: America's Ecumenical War on Poverty (Hardcover)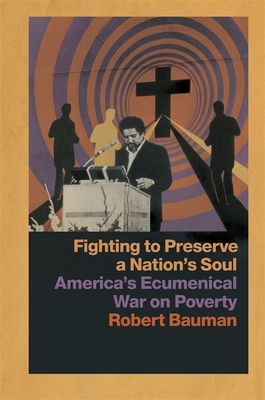 $54.95
Not On Our Shelves—Ships in 1-5 Days
Description
---
Fighting to Preserve a Nation's Soul examines the relationship between religion, race, and the War on Poverty that President Lyndon Johnson initiated in 1964 and that continues into the present. It studies the efforts by churches, synagogues, and ecumenical religious organizations to join and fight the war on poverty as begun in 1964 by the Office of Economic Opportunity. The book also explores the evolving role of religion in relation to the power balance between church and state and how this dynamic resonates in today's political situation.
Robert Bauman surveys all aspects of religion's role in this struggle and substantially discusses the Roman Catholic Church, mainline Protestant churches, Jewish groups, and ecumenical organizations such as the National Council of Churches. In addition, he pays particular attention to race, showing how activist priests and other religious leaders connected religion with the antipoverty efforts of the civil rights movement. For example, he shows how the Interreligious Foundation for Community Organization (IFCO) exemplifies the move toward ecumenism among American religious organizations and the significance of black power to the evolving War on Poverty. Indeed, the Black Manifesto, issued by civil rights and black power activist James Forman in 1969, challenged American churches and synagogues to donate resources to the IFCO as reparations for those institutions' participation in slavery and racial segregation. Bauman, then, explores the intricate and fundamental connection between religious organizations, social movements, and community antipoverty agencies and expands the argument for a long War on Poverty.
About the Author
---
ROBERT BAUMAN is an associate professor of history at Washington State University and the author of Race and the War on Poverty: From Watts to East L.A.