We're following all official guidelines to keep ourselves healthy on the job, and as a result, shipping may be delayed.
You will receive an email from our web orders team confirming that your order has been processed.
We thank you for your support and your patience at this challenging time.
Priests of Our Democracy: The Supreme Court, Academic Freedom, and the Anti-Communist Purge (Hardcover)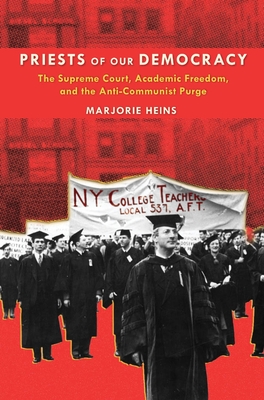 $89.00
Not On Our Shelves—Ships in 1-5 Days
Description
---
Priests of Our
Democracy tells of the teachers and professors who
battled the anti-communist witch hunt of the 1950s. It traces the political fortunes
of academic freedom beginning in the late 19th century, both on
campus and in the courts. Combining political and legal history with wrenching
personal stories, the book details how the anti-communist excesses of the 1950s
inspired the Supreme Court to recognize the vital role of teachers and
professors in American democracy. The crushing of dissent in the 1950s
impoverished political discourse in ways that are still being felt, and First
Amendment academic freedom, a product of that period, is in peril today. In
compelling terms, this book shows why the issue should matter to everyone.
About the Author
---
Marjorie Heins is a civil liberties lawyer, writer, and teacher, and the founding director of the Free Expression Policy Project. Her previous book, Not in Front of the Children, won the American Library Association's 2002 Eli Oboler Award for best published work in the field of intellectual freedom. Other books include Sex, Sin, and Blasphemy: A Guide to America's Censorship Wars; Cutting the Mustard: Affirmative Action and the Nature of Excellence; and Strictly Ghetto Property: The Story of Los Siete de la Raza. She is a graduate of Harvard Law School.