In Chambers: Stories of Supreme Court Law Clerks and Their Justices (Constitutionalism and Democracy) (Paperback)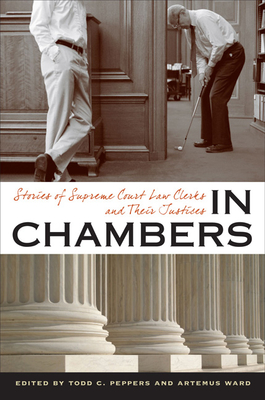 $22.50

Not On Our Shelves—Ships in 1-5 Days
Description
---
Written by former law clerks, legal scholars, biographers, historians, and political scientists, the essays in In Chambers tell the fascinating story of clerking at the Supreme Court. In addition to reflecting the personal experiences of the law clerks with their justices, the essays reveal how clerks are chosen, what tasks are assigned to them, and how the institution of clerking has evolved over time, from the first clerks in the late 1800s to the clerks of Justice Ruth Bader Ginsburg and Chief Justice William Rehnquist.
In Chambers offers a variety of perspectives on the unique experience of Supreme Court clerks. Former law clerks--including Alan M. Dershowitz, Charles A. Reich, and J. Harvie Wilkinson III--write about their own clerkships, painting vivid and detailed pictures of their relationships with the justices, while other authors write about the various clerkships for a single justice, putting a justice's practice into a broader context. The book also includes essays about the first African American and first woman to hold clerkships. Sharing their insights, anecdotes, and experiences in a clear, accessible style, the contributors provide readers with a rare glimpse into the inner workings of the Supreme Court.
About the Author
---
Todd C. Peppers, Henry H. and Trudye H. Fowler Associate Professor of Public Affairs at Roanoke College and a Visiting Professor of Law at Washington and Lee University School of Law, is the author of Courtiers of the Marble Palace: The Rise and Influence of the Supreme Court Law Clerk. Artemus Ward, Associate Professor of Political Science at Northern Illinois University, is the coauthor, with David Weiden, of Sorcerers' Apprentices: 100 Years of Law Clerks at the United States Supreme Court.