Going Viral: Zombies, Viruses, and the End of the World (Paperback)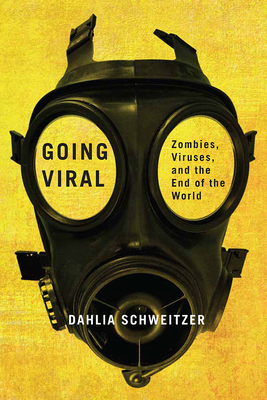 Description
---
Outbreak narratives have proliferated for the past quarter century, and now they have reached epidemic proportions. From
28 Days Later
to
24
to
The Walking Dead
, movies, TV shows, and books are filled with zombie viruses, bioengineered plagues, and disease-ravaged bands of survivors. Even news reports indulge in thrilling scenarios about potential global pandemics like SARS and Ebola. Why have outbreak narratives infected our public discourse, and how have they affected the way Americans view the world?
In
Going Viral
, Dahlia Schweitzer probes outbreak narratives in film, television, and a variety of other media, putting them in conversation with rhetoric from government authorities and news organizations that have capitalized on public fears about our changing world. She identifies three distinct types of outbreak narrative, each corresponding to a specific contemporary anxiety: globalization, terrorism, and the end of civilization. Schweitzer considers how these fears, stoked by both fictional outbreak narratives and official sources, have influenced the ways Americans relate to their neighbors, perceive foreigners, and regard social institutions. 
Looking at everything from
I Am Legend
to
The X Files
to
World War Z
, this book examines how outbreak narratives both excite and horrify us, conjuring our nightmares while letting us indulge in fantasies about fighting infected Others.
Going Viral
thus raises provocative questions about the cost of public paranoia and the power brokers who profit from it.  
Supplemental Study Materials for "Going Viral": 
https://www.rutgersuniversitypress.org/going-viral-dahlia-schweitzer
Dahlia Schweitzer- Going Viral: 
https://www.youtube.com/watch?v=5xF0V7WL9ow
About the Author
---
DAHLIA SCHWEITZER is an adjunct professor at the Art Center College of Design in Pasadena, California. She is the author of
Cindy Sherman's Office Killer: Another Kind of Monster
.  Her website is
http://ThisIsDahlia.com
Praise For…
---
"Schweitzer sets up shop at the intersection of culture, science and politics and demonstrates—with deep research and penetrating insight—that there are things far more menacing than viral threats."
— Jonathan Allen
— Stacy Takacs
"A highly infectious read. Schweitzer's thought-provoking and meticulously researched account clearly outlines the relationship between the reality of viral threats and the Hollywood dramatization of the 'outbreak narrative.'" 
— Terry Matalas
— Karen A. Ritzenhoff
— Toby Miller
— Will Brooker
"An interesting examination of why we are so obsessed with viral outbreaks, zombies, and the end of the world."
"Schweitzer puts together a very thoughtful and thought provoking look at the cross section between our world and the worst case scenarios we keep imagining." 
"[Going Viral] brings welcome attention to [the outbreak narrative], as indeed does the outbreak narrative itself: it confronts its viewers with the tension between impersonal, unintentional networks and the human response in a world in which both the "human" and human agency are increasingly eroded by those same networks."