We're following all official guidelines to keep ourselves healthy on the job, and as a result, shipping may be delayed.
You will receive an email from our web orders team confirming that your order has been processed.
We thank you for your support and your patience at this challenging time.
Hungry for Paris (second edition): The Ultimate Guide to the City's 109 Best Restaurants (Paperback)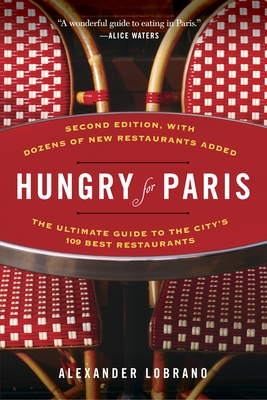 $20.00
Not On Our Shelves—Ships in 1-5 Days
Description
---
If you're passionate about eating well, you couldn't ask for a better travel companion than Alexander Lobrano's charming, friendly, and authoritative Hungry for Paris, the fully revised and updated guide to this renowned culinary scene. Having written about Paris for almost every major food and travel magazine since moving there in 1986, Lobrano shares his personal selection of the city's best restaurants, from bistros featuring the hottest young chefs to the secret spots Parisians love. In lively prose that is not only informative but a pleasure to read, Lobrano reveals the ambience, clientele, history, and most delicious dishes of each establishment—alongside helpful maps and beautiful photographs that will surely whet your appetite for Paris.
 
Praise for Hungry for Paris
 
"Hungry for Paris is required reading and features [Alexander Lobrano's] favorite 109 restaurants reviewed in a fun and witty way. . . . A native of Boston, Lobrano moved to Paris in 1986 and never looked back. He served as the European correspondent for Gourmet from 1999 until it closed in 2009 (also known as the greatest job ever that will never be a job again). . . . He also updates his website frequently with restaurant reviews, all letter graded."—Food Republic

"Written with . . . flair and . . . acerbity is the new, second edition of Alexander Lobrano's Hungry for Paris, which includes rigorous reviews of what the author considers to be the city's 109 best restaurants [and] a helpful list of famous Parisian restaurants to be avoided."—The Wall Street Journal

"A wonderful guide to eating in Paris."—Alice Waters
 
"Nobody else has such an intimate knowledge of what is going on in the Paris food world right this minute. Happily, Alexander Lobrano has written it all down in this wonderful book."—Ruth Reichl
 
"Delightful . . . the sort of guide you read before you go to Paris—to get in the mood and pick up a few tips, a little style."—Los Angeles Times
 
"No one is 'on the ground' in Paris more than Alec Lobrano. . . . This book will certainly make you hungry for Paris. But even if you aren't in Paris, his tales of French dining will seduce you into feeling like you are here, sitting in your favorite bistro or sharing a carafe of wine with a witty friend at a neighborhood hotspot."—David Lebovitz, author of The Sweet Life in Paris

"Hungry for Paris is like a cozy bistro on a chilly day: It makes you feel welcome."—The Washington Post
 
"This book will make readers more than merely hungry for the culinary riches of Paris; it will make them ravenous for a dining companion with Monsieur Lobrano's particular warmth, wry charm, and refreshingly pure joie de vivre."—Julia Glass

"[Lobrano is] a wonderful man and writer who might know more about Paris restaurants than any other person I've ever met."—Elissa Altman, author of Poor Man's Feast
About the Author
---
Alexander Lobrano grew up in Connecticut before moving to Paris, his home today, in 1986. The winner of several James Beard awards, Lobrano was the European correspondent for Gourmet magazine, and is now contributing editor at Saveur. He writes regularly on food and travel for The New York Times, The Wall Street Journal, The Guardian, Condé Nast Traveler, Bon Appétit, and many other publications in the United States and the United Kingdom.
Praise For…
---
"Hungry for Paris is required reading and features [Alexander Lobrano's] favorite 109 restaurants reviewed in a fun and witty way. . . . A native of Boston, Lobrano moved to Paris in 1986 and never looked back. He served as the European correspondent for Gourmet from 1999 until it closed in 2009 (also known as the greatest job ever that will never be a job again). . . . He also updates his website frequently with restaurant reviews, all letter graded."—Food Republic

"Written with . . . flair and . . . acerbity is the new, second edition of Alexander Lobrano's Hungry for Paris, which includes rigorous reviews of what the author considers to be the city's 109 best restaurants [and] a helpful list of famous Parisian restaurants to be avoided."—The Wall Street Journal

"A wonderful guide to eating in Paris."—Alice Waters
 
"Nobody else has such an intimate knowledge of what is going on in the Paris food world right this minute. Happily, Alexander Lobrano has written it all down in this wonderful book."—Ruth Reichl
 
"Delightful . . . the sort of guide you read before you go to Paris—to get in the mood and pick up a few tips, a little style."—Los Angeles Times
 
"No one is 'on the ground' in Paris more than Alec Lobrano. . . . This book will certainly make you hungry for Paris. But even if you aren't in Paris, his tales of French dining will seduce you into feeling like you are here, sitting in your favorite bistro or sharing a carafe of wine with a witty friend at a neighborhood hotspot."—David Lebovitz, author of The Sweet Life in Paris

"Hungry for Paris is like a cozy bistro on a chilly day: It makes you feel welcome."—The Washington Post
 
"This book will make readers more than merely hungry for the culinary riches of Paris; it will make them ravenous for a dining companion with Monsieur Lobrano's particular warmth, wry charm, and refreshingly pure joie de vivre."—Julia Glass

"[Lobrano is] a wonderful man and writer who might know more about Paris restaurants than any other person I've ever met."—Elissa Altman, author of Poor Man's Feast