Nazism and War (Modern Library Chronicles) (Paperback)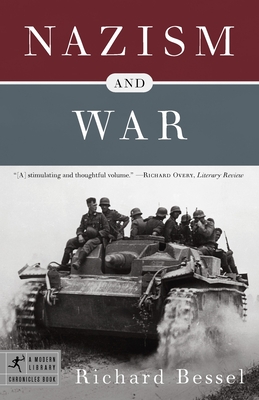 $17.00
Not On Our Shelves—Ships in 1-5 Days
Description
---
The Second World War was the defining event of the twentieth century, leaving millions dead and redrawing the political map in ways that continue to affect nearly the entire human race. What was unprecedented, however, was not simply the war's scale, but its causes. Unlike previous territorial or political clashes, the war launched by Nazi Germany was an ideological one, waged to wipe entire peoples and cultures from the face of the earth.
In
Nazism and War,
Richard Bessel, one of the preeminent authorities on the social and political history of modern Germany, demonstrates how racial hatred was the driving force behind and not a by-product of Nazism. War was the anvil on which Hitler's worldview was forged; to him, war was the most memorable period of my life, and all the past fell away into oblivion. German National Socialism was born in war, emerging triumphant over a country deeply scarred by defeat and eager to reclaim its greatness and to punish those who had usurped it. As a political philosophy, Nazism glorified struggle and conflict, viewing them as the purpose of a nation and a measure of its overall condition. As a political movement and state system, Nazism made its ideology real, plunging the European continent into a war of annihilation and a sea of blood. Nazism inseparable from war destroyed the old Europe, and thus helped to create the world in which we live.
Incisive, authoritative, and immensely readable, this is an incendiary and forcefully argued work of scholarship that will rank with the most influential historical analyses of our time.
From the Hardcover edition.
About the Author
---
RICHARD BESSEL is Professor of History at the University of York and a specialist on the social and political history of Nazi Germany. His previous books include Life in the Third Reich; Political Violence and the Rise of Nazism: The Storm Troopers in Eastern Germany, 1925 1934, and Germany After the First World War. From the Hardcover edition."