Ronald Reagan and His Quest to Abolish Nuclear Weapons (Paperback)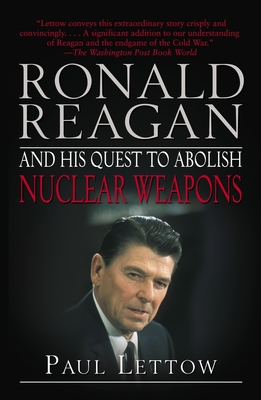 $15.95
Special Order—Subject to Availability
Description
---
In Ronald Reagan and His Quest to Abolish Nuclear Weapons, Paul Lettow explores the depth and sophistication of President Ronald Reagan's commitment to ridding humankind permanently of the threat of nuclear war.
Lettow's narrative spans the start of Reagan's presidency and the 1986 Reykjavik summit between Reagan and Soviet leader Mikhail Gorbachev, during which America's Strategic Defense Initiative (SDI) was a defining issue. Lettow reveals SDI for what it was: a full-on assault against nuclear weapons waged as much through policy as through ideology. While cabinet members and advisers played significant roles in guiding American defense policy, it was Reagan himself who presided over every element, large and small, of this paradigm shift in U.S. diplomacy.
Lettow conducted interviews with several former Reagan administration officials, and he draws upon the vast body of declassified security documents from the Reagan presidency; much of what he quotes from these documents appears publicly here for the first time. The result is the first major work to apply such evidence to the study of SDI and superpower diplomacy. This is a survey that doesn't merely add nuance to the existing record, but revises our
very understanding of the Reagan presidency.
About the Author
---
Paul Lettow received an A.B. in history, summa cum laude, from Princeton University and a D.Phil. in international relations from Oxford University. He has taught American history at Oxford University. He lives in Cambridge, Massachusetts, and the Washington, D.C., area. From the Hardcover edition.
Praise For…
---
"Lettow conveys this extraordinary story crisply and convincingly. . . . A significant addition to our understanding of Reagan and the endgame of the Cold War."
–The Washington Post Book World


"Paul Lettow's sharp and succinct book makes the best case yet for why Ronald Reagan deserves to be remembered as one of the most visionary grand strategists of the twentieth century."
–John Lewis Gaddis

"Paul Lettow is lucid and dispassionate. His willingness to go far back, to the very birth of the nuclear age (which coincided with the very birth of Reagan's anticommunism), and then to trace the story forward as Reagan's ideology slowly matured, pays triumphant dividends."
–Edmund Morris

"Provocative, informative . . . Lettow's achievement is to show that both Reagan's detractors and votaries misread him."
–The New York Times Book Review