Moishe's Miracle: A Hanukkah Story (Paperback)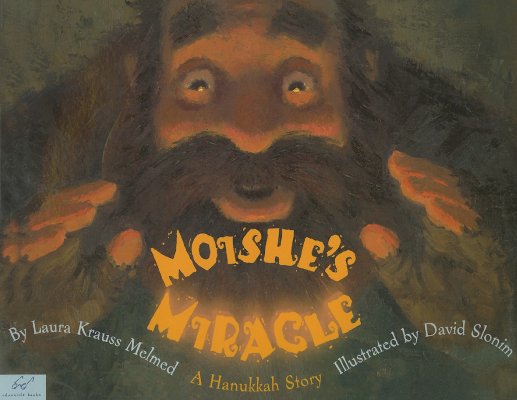 Description
---
Kind-hearted Moishe is given a magical frying pan that will produce all the latkes you could wish forlatkes by the dozen, latkes by the hundredsbut only Moishe must use it. Alas, his short-tempered wife, Baila, does not heed the warning.
About the Author
---
Laura Krauss Melmed is the author of several children's books. Born and raised in New York City, she now lives in Washington, D.C. with her husband and their three children.

David Slonim is a fine-art painter, a cartoonist, and a children's book illustrator. A graduate of Rhode Island School of Design, he now lives in Indiana with his wife and their four children.
Praise For…
---
"A MOO-raculous book. It will put you in the MOO-d for the holidays."
New York Times Book Review
"This entertainingly illustrated tale unwinds itself and reveals the meaning of Hanukkah." The New York Times
"A nifty parable understated, funny, with sharp characterizations automatically caught on the page by Slonim's flourishing, clever art, matching the tone perfectly." Kirkus Reviews
"This warm-hearted, appealing folktale tells of a latter-day Hanukkah miracle that befalls a poor milkman, Moishe, and his short-tempered wife, Baila. David Slonim's vibrant paintings of the Old World town of Wishniak and its inhabitants add immeasurably to the charm of author Melmed's suspenseful cautionary tale. A worthy Hanukkah gift." Parents' Choice

"Four lines of verse open and close this original Hanukkah tale. "Starlight, star bright / Magic on a winter's night / White snow, candle glow / Far away and long ago" sets Melmed's scene in the village of Wishniak, and anticipates the miraculous frying pan with which milkman Moishe can feed latkes to the entire impoverished population. Artist David Slonim plays off this verse with a lyricism of his own: warm candlelight enlivens the drab beiges and browns of Wishniak and makes the blankets of snow as appealing and comforting as the milk in Moishe's pail. Broad strokes of paint, like those of Van Gogh with their vigorous immediacy, bring kindhearted Moishe and his baleful wife Baila fully alive: these are spirited caricatures where dabs of black and white for the eyes reveal whole personalities. The spirit of the holiday has no effect upon sharp-tongued Baila, who resents her husband's generosity and attempts to work the magic pan's miracles for her own end. Melmed's tale traces Baila's transformation, but it is Slonim's art, particularly in his closing illustration of Baila haloed by the sun, conversing with Moishe's two cows in the golden warmth of the barn that portrays a soul reborn." Horn Book