All Blue So Late: Poems (Paperback)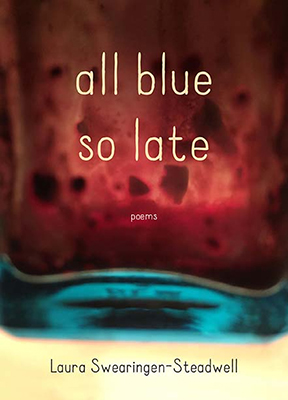 Description
---
All Blue So Late presents the panorama of a young woman's life as she struggles to come to terms with her place in the world. These poems look to race, gender, and American identity, plumbing the individual's attendant grief, rage, and discomfort with these constructs.

The skeleton of this fine collection is a series of direct addresses to the author's fourteen-year-old self, caught at the moment between girlhood and womanhood, when her perspective on everything suddenly changes. Swearingen-Steadwell's poetic adventures through worlds within and without reveal the restlessness of the seeker. They offer unabashed tenderness to anyone who reckons with solitude, and chases joy.
About the Author
---
LAURA SWEARINGEN-STEADWELL is the author of How to Seduce a White Boy in Ten Easy Steps. A Cave Canem Fellow and a graduate of Warren Wilson's M.F.A. Program for Writers, she was a finalist in 2010's Women of the World Poetry Slam.
Praise For…
---
"
All Blue So Late
is a haunting coming of age; a slow and writhing eruption of womanhood through layers of heat, siren and loss. Laura Swearingen-Steadwell has a plaintive, truthful voice that ripples with blues and never wavers towards solipsism. She reckons with an American landscape of Midwestern fluorescence and coastal grit to render poems fused with blistered song." —Tyehimba Jess, author of
Olio
and
Leadbelly
"This beautiful collection could very well have been written to save lives—the speaker's, yes, and mine (a black woman poet). Perhaps, even yours. I'd slide this volume into the hands of any black girl or woman on a cusp—the coming-of-age 9th grader, the 18-year-old striking out on her own, the woman exiting a relationship, pairs of female friends... Swearingen-Steadwell is a true logophile, as seen in the way her careful diction and well-wrought images offer the reader glimpses into her worldly travels. One of the book's many pleasures is the way she's seeded these lyric-narrative hybrids with place details and subject-specific lexicon, a testimony to the superb wordsmith she is. For the curious and attentive reader, this book opens like a flower, one poem at a time." —Maya Marshall, RHINO Reviews
"In All Blue So Late, Laura Swearingen-Steadwell reminds us that history is personal, and the personal is history. In cyclical poems that play the past off the present, Swearingen-Steadwell builds a large and captivating story out of smaller lyric moments, the resulting work both whispered as if to a friend and declaimed as if from a stage. The speaker of these poems claims 'I'll tell you all my secrets' but in the end what is not shared is almost as powerful as what is." —C. Dale Young, author of The Day Underneath the Day and The Halo 
 
"All Blue So Late emerges from the beautiful refusal to choose between lyric and narrative modes. Part adventure novel, part tragic opera, part psychosocial quest, this collection goes 'bildungsromaning' on its own fiercely original course.  The journey is symphonic, layered, and gripping.  Laura Swearingen-Steadwell's first collection has been eagerly anticipated for good reason: her voice holds '[g]hosts/ dissolving on an outstretched tongue' and movingly gifts language with "the benefit/of new intention.'" —Mary Szybist, author of Incarnadine: Poems

"All Blue So Late is a collection of libretti for agitated souls. Each poem has deeply inventive and disturbing candor. Laura Swearingen-Steadwell is narratively fearless. Her ghosts and demons rise from a deeper place than I could have previously imagined. If there is a template for the autobiographical/ mystical dimensions of this book, it perhaps is 'The Woman Pouring Handfuls of Ash.'  The fabrics of this poet's experience may at first seem torn to pieces and then, to a careful reader, finally reveal themselves as whole-cloth and entirely beautiful. An immensely talented poet." —Howard Norman, author of Next Life Might Be Kinder