Interfaith Leadership: A Primer (Paperback)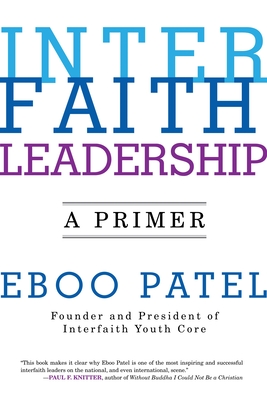 $18.00
In Stock—Click for Locations
Description
---
A guide for students, groups, and organizations seeking to foster interfaith dialogue and promote understanding across religious lines

In this book, renowned interfaith leader Eboo Patel offers a clear, detailed, and practical guide to interfaith leadership, illustrated with compelling examples. Patel explains what interfaith leadership is and explores the core competencies and skills of interfaith leadership, before turning to the issues interfaith leaders face and how they can prepare to solve them. Interfaith leaders seek points of connection and commonality—in their neighborhoods, schools, college campuses, companies, organizations, hospitals, and other spaces where people of different faiths interact with one another. While it can be challenging to navigate the differences and disagreements that can arise from these interactions, skilled interfaith leaders are vital if we are to have a strong, religiously diverse democracy. This primer presents readers with the philosophical underpinnings of interfaith theory and outlines the skills necessary to practice interfaith leadership today.
About the Author
---
Eboo Patel is the founder and president of Interfaith Youth Core and the author of Acts of Faith and Sacred Ground. He was a member of President Obama's inaugural faith council, is a regular contributor to the Washington Post, Huffington Post, CNN, and public radio, and speaks frequently about interfaith cooperation on college campuses. He lives in Chicago with his wife and two boys.
Praise For…
---
"This book makes it clear why Eboo Patel is one of the most inspiring and successful interfaith leaders on the national, and even international, scene."
—Paul F. Knitter, author of Without Buddha I Could Not Be a Christian

"Make no mistake: far from being the easy assertion of well-intentioned liberalism, civic interfaith leadership is a subtle and demanding skill that requires patience, political savvy, historical knowledge, and careful reflection, as well as inspiration and goodwill. Accessible, inspiring, and rigorous, Interfaith Leadership will almost certainly become required reading in almost any class or workshop that engages religious diversity in our society today. Most of all, Patel has a keen eye for the stories that Americans have lived in trying to create and nurture that precious public space, where deeply held religious differences are neither ignored, nor dissolved, but woven into a common good."
—Laurie L. Patton, Professor of Religion, and President, Middlebury

"At a time when Americans are fiercely debating differences over race, class and gender, Eboo Patel makes a compelling argument that to achieve healing, we must reconcile religious differences as well. Drawing upon practical stories as well as scholarly writings, he shows how we can move beyond diversity to an enriching pluralism. This is an important, insightful book by a man who has become a model of interfaith leadership."
—David Gergen, Professor of Public Service and Co-Director of the Center for Public Leadership at the Harvard Kennedy School