Raising Global IQ: Preparing Our Students for a Shrinking Planet (Hardcover)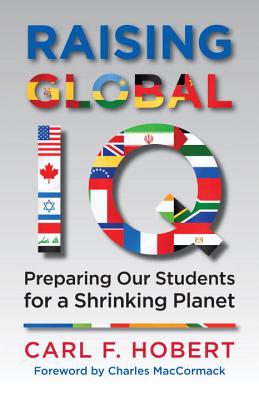 $26.95
Not On Our Shelves—Ships in 1-5 Days
Description
---
A groundbreaking roadmap for improving global literacy and conflict-resolution skills in middle and high schools across the United States
In"Raising Global IQ," Carl Hobert calls on K 12 teachers, administrators, parents, and students alike to transform the educational system by giving students the tools they need to become responsible citizens in a shrinking, increasingly interdependent world. Drawing on his nearly thirty years teaching, developingcurricula, and leading conflict-resolution workshops here and around the world, he offers creative, well-tested, and understandable pedagogical ideas to help improve our children's GIQ Global Intelligence Quotient. Cognizant of many U.S. schools limited budgets and time, Hobert advocates teaching foreign languages early in life, honing students conflict-resolution skills, providing creative-service learning opportunities, and offering cultural-exchange possibilities in students own communities, as well as nationally and abroad all before they graduate from high school.

About the Author
---
Carl F. Hobert is a clinical instructor in the Boston University School of Education. He alsoheads the Axis of Hope Center for International Conflict Management and Prevention, a Boston-based nonprofit organization that offers conflict-resolution simulation workshops for both students and educators in middle and high schools around the world. In this capacity, he lectures worldwide and hosts workshops for students and educators. Hobert earned a master s in law and diplomacy from the Tufts Fletcher School. He lives in Wayland, Massachusetts."
Praise For…
---
"Across the political spectrum and around the world, people are touting the importance of Global Education. In this book, experienced educator Carl Hobert puts forth a thoughtful description of an education that is suited for our times."
–Howard Gardner, author of Multiple Intelligences and Five Minds for the Future

"In our rapidly globalizing world, it is crucial that we prepare our students to be global-minded, whether by expanding access to world languages, integrating 21st century technology into the curriculum, or promoting the importance of serving others in the community and around the world.  Developing students' global IQ is more than an aspiration – it is a necessity."
—Carol Johnson, Superintendent of Boston Public Schools

"A persuasive call for updating educational standards to meet the challenge of globalization." —Kirkus Reviews

"Hobert follows the powerful statement for a need for a Global IQ with practical chapters on how to redesign the teaching and learning environment." —Choice magazine

"Brilliant, original, engaging, and hugely important book!"
—Edward M. Hallowell, author of Driven to Distraction
"Carl Hobert offers reasoned and informed proposals to address one of the most vexing and important problems of our time. Why do Americans in general know so little about other countries and other cultures?  How can we design our teaching and learning environment to better prepare students to live in an increasingly inter-connected and competitive world?  This is an important book for anyone who cares about—and fears for—our future."
—Steve Bosworth, Dean of the Tufts Fletcher School of Law and Diplomacy, Former-Ambassador to South Korea, the Philippines and Tunisia, Special Envoy to North Korea
 
"Raising Global IQ is a powerful statement of not merely the conditions of contemporary American education, but an insightful and thoughtful proposal for educational transformation. At the same time personal and theoretical, reflective and analytical, this volume places Carl Hobert in the forefront of American educators, and quite possibly as the person to draw up a genuinely inspiring blueprint for schooling in the 21st century."
—Tom Cottle, professor, Boston University