The Social Life of DNA: Race, Reparations, and Reconciliation After the Genome (Paperback)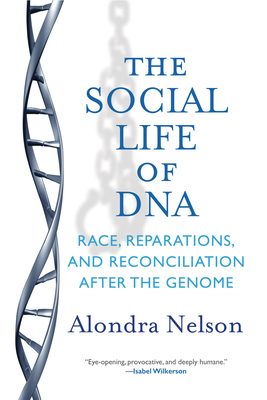 $20.00
Not On Our Shelves—Ships in 1-5 Days
Description
---
The unexpected story of how genetic testing is affecting race in America

We know DNA is a master key that unlocks medical and forensic secrets, but its genealogical life is both revelatory and endlessly fascinating. Tracing genealogy is now the second-most popular hobby amongst Americans, as well as the second-most visited online category. This billion-dollar industry has spawned popular television shows, websites, and Internet communities, and a booming heritage tourism circuit.

The tsunami of interest in genetic ancestry tracing from the African American community has been especially overwhelming. In The Social Life of DNA, Alondra Nelson takes us on an unprecedented journey into how the double helix has wound its way into the heart of the most urgent contemporary social issues around race.

For over a decade, Nelson has deeply studied this phenomenon. Artfully weaving together keenly observed interactions with root-seekers alongside illuminating historical details and revealing personal narrative, she shows that genetic genealogy is a new tool for addressing old and enduring issues. In The Social Life of DNA, she explains how these cutting-edge DNA-based techniques are being used in myriad ways, including grappling with the unfinished business of slavery: to foster reconciliation, to establish ties with African ancestral homelands, to rethink and sometimes alter citizenship, and to make legal claims for slavery reparations specifically based on ancestry.

Nelson incisively shows that DNA is a portal to the past that yields insight for the present and future, shining a light on social traumas and historical injustices that still resonate today. Science can be a crucial ally to activism to spur social change and transform twenty-first-century racial politics. But Nelson warns her readers to be discerning: for the social repair we seek can't be found in even the most sophisticated science. Engrossing and highly original, The Social Life of DNA is a must-read for anyone interested in race, science, history and how our reckoning with the past may help us to chart a more just course for tomorrow.
About the Author
---
Alondra Nelson is Dean of Social Science and professor of sociology and gender studies at Columbia University. She is author of the award-winning book Body and Soul: The Black Panther Party and the Fight Against Medical Discrimination and her writing has appeared in the New York Times, Washington Post, Science, Boston Globe, and the Guardian. She lives in New York City.
Praise For…
---
"Meticulously detailed. Nelson adds another chapter to the somber history of injustice toward African-Americans, but it is one in which science is enriching lives by forging new identities and connections to ancestral homelands."
—Kirkus Reviews

"The Social Life of DNA is an important contribution to many literatures and will undoubtedly serve as a catalyst for academic and public discussion of the intertwined relationships among race, science, and policy in the coming years."
—Sociology of Race and Ethnicity

"One of this generation's most gifted scholars examines the unfolding mysteries of DNA sequencing and the limits and promises of genetic genealogy at the intersection of race, politics and identity. Alondra Nelson brilliantly guides us on a journey of discovery in this cautionary tale of the high-stakes efforts to reconcile our racial origins and to find redemption as a country. Eye-opening, provocative and deeply humane."
—Isabel Wilkerson, author of The Warmth of Other Suns

"Alondra Nelson takes us into a complex and endlessly fascinating space where genetic ancestry testing meets racial politics. With her unique and wonderful gifts for research and insight into genetic science, ethnography and history, The Social Life of DNA comes at a moment when the questions it raises about race and social justice couldn't be more pressing and urgent."
—Rebecca Skloot, author of The Immortal Life of Henrietta Lacks

"Nelson explores this large, sprawling, fascinating subject with clarity, passion, rigor, and a keen eye for revealing detail. The Social Life of DNA will appeal to a broad readership interested in history, race, and science. Geneticists, sociologists, anthropologists, political scientists, and jurists will be stimulated by reading this book. It is a brilliant work."
—Randall Kennedy, Michael R. Klein Professor at Harvard Law School and author of The Persistence of the Color Line 

"Alondra Nelson tells a story for anyone interested in their own family, even their own memory. Using fresh genetics research and writing like an investigative reporter, Nelson clears up the mystery about our society's rush to DNA."
—Edward Ball, author of Slaves in the Family

"The Social Life of DNA is a brilliant ethnography of the recreational uses of DNA...Timely and original, this book offers a nuanced and engrossing negotiation between genetic truth and 'truthiness.'"
—Patricia J. Williams, James L. Dohr Professor of Law at Columbia University and columnist for The Nation

"'The double helix now lies at the center of some of the most significant issues of our time,' Alondra Nelson writes in this valuable and illuminating book. Since 2003, she has been following the ways that DNA intertwines with race, and The Social Life of DNA is her clear-eyed, sharp, and closely observed account of the phenomenon. It couldn't be more timely."
—Jonathan Weiner, Maxwell M. Geffen Professor of Medical and Scientific Journalism at Columbia Journalism School

"Alondra Nelson's account of how genetic data was transformed into contested political culture is a lucid as it is path-breaking. This exhilarating survey of how DNA became an agent in the politics of reparation and reconciliation has not only extended analysis of race and racism but created a new field of comparative research."
—Paul Gilroy, professor of American and English literature, King's College, London


From the Hardcover edition.