We're following all official guidelines to keep ourselves healthy on the job, and as a result, shipping may be delayed.
You will receive an email from our web orders team confirming that your order has been processed.
We thank you for your support and your patience at this challenging time.
Resurrecting Hebrew (Jewish Encounters Series) (Hardcover)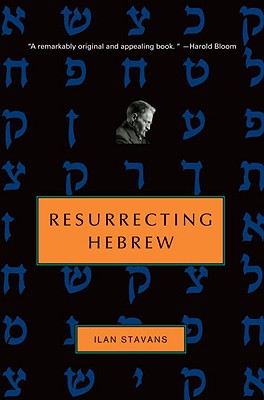 $21.00
Special Order—Subject to Availability
Description
---
Part of the Jewish Encounter series

Here is the stirring story of how Hebrew was rescued from the fate of a dead language to become the living tongue of a modern nation. Ilan Stavans's quest begins with a dream featuring a beautiful woman speaking an unknown language. When the language turns out to be Hebrew, a friend diagnoses "language withdrawal," and Stavans sets out in search of his own forgotten Hebrew as well as the man who helped revive the language at the end of the nineteenth century, Eliezer Ben-Yehuda.

The search for Ben-Yehuda, who raised his eldest son in linguistic isolation–not even allowing him to hear the songs of birds–so that he would be "the first Hebrew-speaking child," becomes a journey full of paradox. It was Orthodox anti-Zionists who had Ben-Yehuda arrested for sedition, and, although Ben-Yehuda was devoted to Jewish life in Palestine, it was in Manhattan that he worked on his great dictionary of the Hebrew language.

The resurrection of Hebrew raises urgent questions about the role language plays in Jewish survival, questions that lead Stavans not merely into the roots of modern Hebrew but into the origins of Israel itself. All the tensions between the Diaspora and the idea of a promised land pulse beneath the surface of Stavans's story, which is a fascinating biography as well as a moving personal journey.
About the Author
---
Ilan Stavans is the author of two collections of short stories and fifteen works of nonfiction, including On Borrowed Words and Dictionary Days. His many awards and honors include an Emmy nomination, a Guggenheim Fellowship, the Pablo Neruda Medal, and the National Jewish Book Award (for his anthology The Schocken Book of Modern Sephardic Literature). He lives in Amherst, Massachusetts, where he is the Lewis-Sebring Professor in Latin American and Latino Culture and Five College Fortieth Anniversary Professor at Amherst College.
Praise For…
---
"Resurrecting Hebrew is exciting and penetrating. This story will be read with deep interest by all those who are fascinated by the renaissance of an ancient language."
--Elie Wiesel

"Ilan Stavan's personal search to discover his relationship with Hebrew leads him to explore the unlikely quest of Eliezer Ben-Yehuda to revive the language of the Bible, a language not spoken outside of the synagogue for two thousand years, as a spoken language. This quixotic, Borgesian undertaking, as unlikely as reviving Latin as the language of everyday Italians, somehow miraculously succeeded. Resurrecting Hebrew reveals, in a fascinating and informative way, how this impossibility became a reality. Written with commendable clarity and vitality, it is a brief, unforgettable masterpiece."
--Howard Schwartz, author of Tree of Souls: The Mythology of Judaism

"There are fewer than eight thousand distinct words in the Hebrew Bible, yet a lone zealot and ragged refugees from every corner of the globe transformed the ancient Jewish tongue into the spoken language of millions. It is a story too fantastic for fiction, and Ilan Stavans tells it with erudition, charm, and a barely contained sense of astonishment."
--Aaron Lansky, president, National Yiddish Book Center and author of Outwitting History