The Limits of Power: The End of American Exceptionalism (American Empire Project) (Paperback)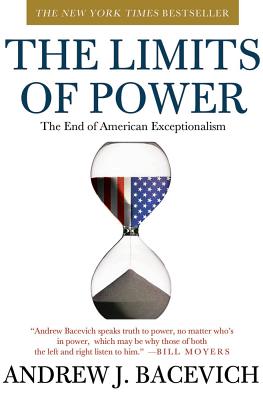 Description
---
"Andrew Bacevich speaks truth to power, no matter who's in power, which may be why those of both the left and right listen to him."—Bill Moyers

An immediate New York Times bestseller, The Limits of Power offers an unparalleled examination of the profound triple crisis facing America: an economy in disarray that can no longer be fixed by relying on expansion abroad; a government transformed by an imperial presidency into a democracy in name only; and an engagement in endless wars that has severely undermined the body politic.

Writing with knowledge born of experience, conservative historian and former military officer Andrew J. Bacevich argues that if the nation is to solve its predicament, it will need the revival of a distinctly American approach: the neglected tradition of realism. In contrast to the multiple illusions that have governed American policy since 1945, he calls for respect for power and its limits; aversion to claims of exceptionalism; skepticism of easy solutions, especially those involving force; and a conviction that Americans must live within their means. Only a return to such principles, Bacevich eloquently argues, can provide common ground for fixing America's urgent problems before the damage becomes irreparable.
About the Author
---
Andrew Bacevich is the author of The Limits of Power, Washington Rules, and The Age of Illusions: How America Squandered Its Cold War Victory. His writings have appeared in The New York Times, the London Review of Books, and the American Conservative, among other publications. Having served in the army for twenty-three years, he is currently a professor emeritus of history and international relations at Boston University and founder and president of the Quincy Institute for Responsible Statecraft, a Washington think tank dedicated to foreign policy. He lives in Walpole, Massachusetts.
Praise For…
---
"Crisp prose, sweeping historical analysis and searing observations on the roots of American decadence elevate this book from a mere scolding to an urgent call for rational thinking and measured action, for citizens to wise up and put their house in order." —Publishers Weekly

"In this utterly original book, Andrew Bacevich explains how our 'empire of consumption' contains the seeds of its own destruction and why our foreign policy establishment in Washington is totally incapable of coming to grips with it. Indispensable reading for every citizen." —Chalmers Johnson, author of the Blowback Trilogy

"A clear-eyed look into the abyss of America's failed wars, and the analysis needed to climb out. In Andrew Bacevich, realism and moral vision meet." —James Carroll, author of House of War

"In The Limits of Power, Andrew Bacevich takes aim at America's culture of exceptionalism and scores a bulls eye. He reminds us that we can destroy all that we cherish by pursuing an illusion of indestructibility." —Lt. Gen. Bernard E. Trainor USMC (Ret.), co-author of The General's War and Cobra II

"Andrew Bacevich has written a razor sharp dissection of the national myths which befuddle U.S. approaches to the outside world and fuel the Washington establishment's dangerous delusions of omnipotence. His book should be read by every concerned US citizen." —Anatol Lieven, author of America Right or Wrong: An Anatomy of American Nationalism

"In The Limits of Power, Andrew Bacevich delivers precisely what the Republic has so desperately needed: an analysis of America's woes that goes beyond the villain of the moment, George W. Bush, and gets at the heart of the delusions that have crippled the country's foreign policy for decades. Bacevich writes with a passionate eloquence and moral urgency that makes this book absolutely compelling. Everyone should read it." —Mark Danner, author of Torture and Truth: America, Abu Ghraib, and the War on Terror