The Calligrapher's Daughter (Hardcover)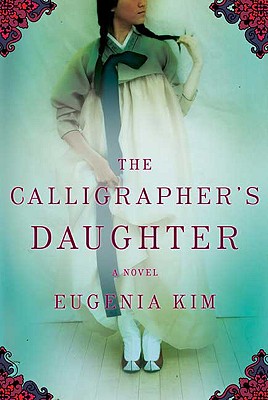 $26.00

Special Order—Subject to Availability
Description
---
A sweeping debut novel, inspired by the life of the author's mother, about a young woman who dares to fight for a brighter future in occupied Korea
In early-twentieth-century Korea, Najin Han, the privileged daughter of a calligrapher, longs to choose her own destiny. Smart and headstrong, she is encouraged by her mother—but her stern father is determined to maintain tradition, especially as the Japanese steadily gain control of his beloved country. When he seeks to marry Najin into an aristocratic family, her mother defies generations of obedient wives and instead sends her to serve in the king's court as a companion to a young princess. But the king is soon assassinated, and the centuries-old dynastic culture comes to its end.
In the shadow of the dying monarchy, Najin begins a journey through increasing oppression that will forever change her world. As she desperately seeks to continue her education, will the unexpected love she finds along the way be enough to sustain her through the violence and subjugation her country continues to face? Spanning thirty years, The Calligrapher's Daughter is a richly drawn novel in the tradition of Lisa See and Amy Tan about a country torn between ancient customs and modern possibilities, a family ultimately united by love, and a woman who never gives up her search for freedom.
About the Author
---
Eugenia Kim is the daughter of Korean immigrant parents who came to America shortly after the Pacific War. She has published short stories and essays in journals and anthologies, including "Echoes Upon Echoes: New Korean American Writings," and is an MFA graduate of Bennington College. She lives in Washington, D.C., with her husband and son. "The Calligrapher's Daughter" is her first novel.
Praise For…
---
"A beautiful, deliberate and satisfying story spanning 30 years of Korean history . . . Elegant."—Publishers Weekly (starred review)
"Eugenia Kim's sensitive first novel, which depicts 30 years of Korea's modern history in light of its ancient past, is an illuminating prequel to present-day events. . . . Kim recounts a poignant family history, much of it based on her own mother's life. . . . A satisfying excursion into empathetically rendered lives."—Sybil Steinberg, Washington Post
"Gripping. . . . Eugenia Kim's debut novel feels particularly fresh. . . . Kim creates a strong, sweet bond between mother and daughter that is maintained throughout the novel."—Anne Morris, Dallas Morning News
"Fans of Lisa See's or Amy Tan's novels should eagerly embrace Najin, and The Calligrapher's Daughter bids fair to become a staple of book clubs."—Yvonne Zipp, Christian Science Monitor
"Kim has excelled at portraying Najin as a spirited yet loyal daughter and wife while exposing a tragic time during Korea's sustained history as a nation."—Library Journal
"Kim opens a window into a vanished world in this sensitively rendered homage to her mother's life. . . . Fans of Lisa See's recently published Shanghai Girls will be drawn into this achingly beautiful tribute to female perseverance and survival."—Booklist
"A bold, richly detailed story about the young daughter of a well-known calligrapher in turn-of-the 20th-century Korea. . . . [A] vivid, heartfelt portrait of faith, love and life for one family during a pivotal time in history."—Amy Scribner, Bookpage
"In The Calligrapher's Daughter Eugenia Kim beautifully chronicles both the lost world of a traditional Korea and the lost childhood of her remarkable heroine. A coming-of-age story that resonates with larger significance, the novel movingly depicts the emotional cost of transformation and the love and sacrifice that make transformation possible. The Calligrapher's Daughter is at once the story of a single life as well as the changing life of a nation and, while the details are fascinatingly exotic, the narrative rings with the hard won truths of profound human experience. It is a note-worthy debut from a writer with great heart and real empathy."—Sheridan Hay, author of The Secret of Lost Things
"The Calligrapher's Daughter fascinated me, as much for its characters as for its engrossing story of Korea under the Japanese occupation. Najin's father is admirable for exactly the traits that make him difficult, and her apparently passive mother is heroic. I can't stop thinking about them and their honest, brave, and very human daughter."—Alice Mattison, author of Nothing is Quite Forgotten in Brooklyn and The Book Borrower