United States of Jihad: Who Are America's Homegrown Terrorists, and How Do We Stop Them? (Paperback)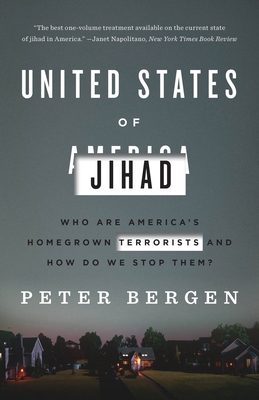 $18.00

Special Order—Subject to Availability
Description
---
A riveting, panoramic look at "homegrown" Islamist terrorism from 9/11 to the present
 
Since 9/11, more than three hundred Americans—born and raised in Minnesota, Alabama, New Jersey, and elsewhere—have been indicted or convicted of terrorism charges. Some have taken the fight abroad: an American was among those who planned the attacks in Mumbai, and more than eighty U.S. citizens have been charged with ISIS-related crimes. Others have acted on American soil, as with the attacks at Fort Hood, the Boston Marathon, and in San Bernardino. What motivates them, how are they trained, and what do we sacrifice in our efforts to track them?
 
Paced like a detective story, United States of Jihad tells the entwined stories of the key actors on the American front. Among the perpetrators are Anwar al-Awlaki, the New Mexico-born radical cleric who became the first American citizen killed by a CIA drone and who mentored the Charlie Hebdo shooters; Samir Khan, whose Inspire webzine has rallied terrorists around the world, including the Tsarnaev brothers; and Omar Hammami, an Alabama native and hip hop fan who became a fixture in al Shabaab's propaganda videos until fatally displeasing his superiors.
 
Drawing on his extensive network of intelligence contacts, from the National Counterterrorism Center and the FBI to the NYPD, Peter Bergen also offers an inside look at the controversial tactics of the agencies tracking potential terrorists—from infiltrating mosques to massive surveillance; at the bias experienced by innocent observant Muslims at the hands of law enforcement; at the critics and defenders of U.S. policies on terrorism; and at how social media has revolutionized terrorism.
 
Lucid and rigorously researched, United States of Jihad is an essential new analysis of the Americans who have embraced militant Islam both here and abroad.

— Washington Post, Notable Non-Fiction Books in 2016
About the Author
---
Peter Bergen is vice president at New America in Washington, DC, as well as national security analyst for CNN, where he writes a weekly online column. He is also a professor and codirector of the Center on the Future of War at Arizona State University and has held teaching positions at the Kennedy School of Government at Harvard University and at the School of Advanced International Studies at Johns Hopkins University.

Bergen is the author of four previous books about terrorism, including three New York Times bestsellers and three Washington Post nonfiction books of the year. His books have been translated into twenty languages and made into four documentaries, and his writing has appeared in the New York Times, the Washington Post ,the Wall Street Journal, The Atlantic, Rolling Stone, Time, Foreign Affairs, Vanity Fair, and elsewhere. In 1997, as a producer for CNN, Bergen produced Osama bin Laden's first television interview, in which bin Laden declared war against the United States for the first time to a Western audience.

He lives in Washington, DC, with his wife, documentary producer Tresha Mabile, and his children, Pierre and Grace.
Praise For…
---
Selected for the Washington Post's Notable Nonfiction List, 2016
A New York Times Editors' Choice

"Mr. Bergen writes with authority and range... His profiles of jihadists... leave the reader with a harrowing appreciation of the banality of evil and an unnerving sense of missteps made by the authorities... Mr. Bergen's detailed accounts of terror plots (both executed, foiled or failed) make for chilling reading."
—MICHIKO KAKUTANI, NEW YORK TIMES

"Excellent... Bergen's book is the best one-volume treatment available on the current state of jihad in America."
—JANET NAPOLITANO, NEW YORK TIMES BOOK REVIEW

"Peter Bergen is a skilled and sensitive reporter with unparalleled access to the law-enforcement and intelligence communities... He has written what in effect are two books about terrorism. Both are valuable. One is a riveting, thoroughly researched account of the evolving state of the threat as a growing number of American citizens join the ranks of foreign terrorist movements—and of how U.S. intelligence and law-enforcement agencies are addressing the constantly shifting threat. The other is a skilled defense of... the Obama administration's anti-terror effort: one that attempts to steer between the perceived extremes of panicky overreaction and a failure to acknowledge how politically and socially devastating terror attacks can be."
—WALTER RUSSELL MEAD, WALL STREET JOURNAL

"Peter Bergen... one of America's most prominent terrorism experts, makes a compelling and often unsettling case that, in the years since Sept. 11, 2001, Islamist terrorism in the United States has metamorphosed... The transformation of domestic jihadism has not only dispersed the Islamist terrorist threat but in a perverse process of cultural intermingling has partly Americanized jihad itself. The 'soft power' appeal of American culture is often considered to be one of this country's most enduring assets, but the new admixture of jihadi terror and pop culture savoir faire potentially turns this idea on its head... Bergen takes a generally skeptical view of the growth of the post-9/11 national security state and of the fear-mongering about Islam that has increasingly transfixed the darker crannies of American politics. This skepticism, I think, is not only strategically and morally sound but also borne out by the facts."
—LOS ANGELES TIMES

"There's drama in the cases Bergen relates... He makes a highly reliable guide on the road to the present day."
—KARL VICK, TIME MAGAZINE

"A crisply methodical detailing of the types of people and attacks involved in Islam-inspired terrorism here and abroad… Bergen knows his topic extremely well."
—USA TODAY

"Disturbing and topical… [United States of Jihad] is an engrossing and edifying book… It is to Bergen's immense credit that, without downplaying the threat of Islamist terrorism—home-grown or directed at America by groups abroad—he refrains from overstating it and attempts to maintain perspective… The author deserves kudos for simultaneously recognizing the potential of secular Muslims—who are too often ignored—to change people's attitudes."
—BOSTON GLOBE

"Bergen pulls you in with snappy, conversational writing... exploding some of the easy assumptions about jihadists in the United States."
—WASHINGTON POST

"Bergen, who has interviewed convicted terrorists, their families and friends and people working across the counterterrorism profession, is the most sober guide to the subject one could hope for….But Bergen also has an eye for the human factor, which makes this book, for all its horror, humane. 'Jihadization' is usually a great blow to the families of the person involved, and Bergen presents poignant family portraits."
—THE GLOBE AND MAIL

"Gripping… There is much to commend in Mr. Bergen's important book. Readers will benefit from his astute observations, based on numerous case studies… [Mr. Bergen] offers a sobering assessment that should not be overlooked."
—WASHINGTON TIMES

"Bergen's book provides sobering reading in a feverish U.S. political climate."
—AL JAZEERA AMERICA

"Bergen has been at the forefront of reporting on terrorism for more than 20 years. In this innovative and illuminating work... Bergen explores nearly every aspect of terrorist activity, from ISIS' use of social media to the FBI's development of behavioral profiles that identify potential terror activists. Both balanced and galvanizing, Bergen's meticulous portrait of violent extremism is required reading for anyone who truly wants to understand the nature of the evolving threats from within and without."
—BOOKLIST (starred review)

"Bergen calmly and lucidly examines the diverse stories of the more than 300 people in the United States who have been charged with jihadist terrorist crimes since September 11, 2001. His nuanced insights, couched within a series of gripping narratives, offer readers a solid foundation to knowledgeably face the barrage of political opinions being flung about by many Americans this election year… Highly recommended for all readers seeking an informed view of current events."
—LIBRARY JOURNAL

"There are a number of fine scholars of jihad, but no one matches Peter Bergen in clarity and wisdom, qualities abundantly on display in this valuable book."
—LAWRENCE WRIGHT, author of The Looming Tower and Going Clear

"Nobody burrows deeper into the horrifying world of organized terror, uncovering harrowing stories of near-misses and fatal attacks, than Peter Bergen. And nobody analyzes this fraught subject with such calm, careful rigor. His portrait of the terrorists next door and the agents who hunt them is worthy of Homeland—except that it's all too real."
—FRANKLIN FOER, author of How Soccer Explains the World
 
"Peter Bergen has become one of America's most important analysts of Islamist militancy and terrorism. Here he again provides a timely, sober study of the diverse and fragmentary character of homegrown violent jihadists. He places the scale of the threat into accurate perspective without minimizing its dangers. Every American should read this book."
—STEVE COLL, author of Ghost Wars and Private Empire
 
"A fascinating and vitally important look at the rise of American jihadists. Brilliantly reported and researched, this is an essential book for anyone who wants to understand why hundreds of Americans have turned to radical Islam."
—ANDERSON COOPER
 
"It is hard to imagine a timelier book than this one. Peter Bergen does what he does best—telling mesmerizing stories that weave together exhaustive research to illuminate a critically important subject. He shows us that the Americans among us who turn to jihad are not who we imagine, suggesting ways in which we can be simultaneously more humane and more secure."
—ANNE-MARIE SLAUGHTER, author of The Idea That Is America; president and CEO of New America
 
"With his latest book, Peter Bergen shows once again that he has become the premier chronicler of jihadism in the twenty-first century. Read it and come away with a new understanding of America and of terrorism."
—THOMAS E. RICKS, author of The Generals and Fiasco
 
"In this incisive book Peter Bergen answers many questions about terrorism that preoccupy Americans today. Why does extremism appeal to some young Muslims in America? What is the nature and scope of the threat? Rich in detail and eminently readable, this unique book explains both the challenge of terrorism and the turmoil in the Muslim heartland that fuels it."
—VALI NASR, author of The Dispensable Nation; Dean, Paul H. Nitze School of Advanced International Studies, Johns Hopkins