Into the Dangerous World (Hardcover)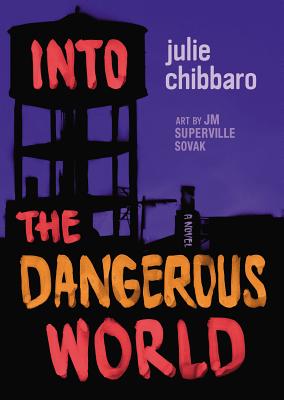 $17.99
Special Order—Subject to Availability
Description
---
At a family meeting, Ror declares her purpose: She is an artist.
            But she doesn't really know what that means. Raised on a commune, she's never attended a day of school, and has seen little of the outside world. What she knows best is drawing. To her, it's like breathing; it's how she makes sense of the world.
            When her father torches the commune—and himself—Ror's life changes. She, her mother and sister end up in a homeless residence in Manhattan, where she runs into trouble—and love—with Trey, the leader of Noise Ink, a graffiti crew.
            On the city's streets, and in its museums and galleries, Ror finds herself pulled in different directions. Her father wanted her to make classic art. Noise Ink insists she stay within their lines. Her art teacher urges her to go to college. What does she want?
            Ror's journey is a seamless blend of words and pictures, cinematic in its scope--a sharp-edged, indelible work of art that will live inside your head.
About the Author
---
Julie Chibbaro was raised by artists in New York City, and has spent her life figuring out what makes them tick. She married an artist who has helped her enter her characters' creative minds. Their first collaboration, the historical novel Deadly, won the National Jewish Book Award, and was named a Bank Street Best Book. Her first novel, Redemption, won the American Book Award. Visit Julie at www.juliechibbaro.com.
 
JM Superville Sovak is half-Trini, half-Czech, half-Canadian. His fourth half is spent making art. His work has been shown at the Manifesta European Biennial of Contemporary Art, Socrates Sculpture Park, and the Aldrich Museum. He was the illustrator for Julie Chibbaro's second novel Deadly. See more at www.supervillesovak.com.
 
www.intothedangerousworld.com
Praise For…
---
"A thought-provoking, beautiful exploration of the artistic process."--Kirkus Reviews

"This bold book wakes us up to an urban tribe that operates in the margins. The powerful, primal art feels so organic to the next, it's hard to imagine one without the other." -- Nikki Grimes, award-winning author of Bronix Masquerade

"Shimmers with authenticity and the actual dynamics of what it's like to be a teenager facing both the volatile world of street art and the insular nature of high art. Every character feels like someone I've known, debating how art fits into their life."—Ron English, acclaimed street artist, culture jammer, and designer of Popaganda

* "Chibbaro's gritty novel follows Ror as she figures out what type of artist she wants to become while using her drawing to channel her grief. Illustrator Sovak, Chibbaro's husband and collaborator on 2011's Deadly, skillfully conveys Ror's artistic talent in vibrant and emotionally resonant b&w sketches. ... Period references (Blondie, Keith Haring, the Reagan administration) provide context, yet the book feels modern and relevant as this striking combination of story and illustration creates a powerful portrait of a budding artist."--Publishers Weekly, starred review

A Junior Library Guild Selection