Out of the Dark (Hardcover)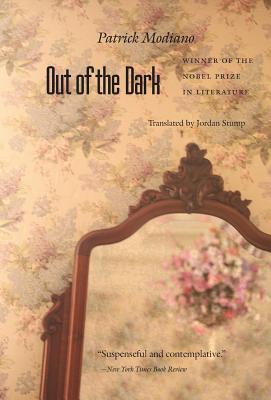 $29.95
Not On Our Shelves—Ships in 1-5 Days
Description
---
Patrick Modiano, winner of the 2014 Nobel Prize in Literature, is the author of more than thirty books and one of France's most admired contemporary novelists. Out of the Dark is a moody, expertly rendered tale of a love affair between two drifters.

The narrator, writing in 1995, looks back thirty years to a time when, having abandoned his studies and selling off old art books to get by, he comes to know Gérard Van Bever and Jacqueline, a young, enigmatic couple who seem to live off roulette winnings. He falls in love with Jacqueline; they run off to England together, where they share a few sad, aimless months, until one day she disappears. Fifteen years later, in Paris, they meet again, a reunion that only recalls the haunting inaccessibility of the past: they spend a few hours together, and the next day, Jacqueline, now married, disappears once again. Almost fifteen years after that, he sees her yet again, this time from a distance he chooses not to bridge. A profoundly affecting novel, Out of the Dark is poignant, strange, delicate, melancholy, and sadly hilarious.

About the Author
---
Jordan Stump is a professor of French at the University of Nebraska–Lincoln. He is the translator of numerous novels by Marie Redonnet, Éric Chevillard, Christian Oster, Lutz Bassmann, and Antoine Volodine, many of which are available from the University of Nebraska Press. His translation of Claude Simon's The Jardin des Plantes was awarded the French-American Foundation's translation prize and he was named Chevalier de l'Ordre des Arts et des Lettres. He is also the author of The Other Book: Bewilderments of Fiction (Nebraska, 2011).

Praise For…
---
"Modiano's existential noir novel employs a moody, atmospheric prose (smoothly translated by Jordan Stump) to create a strange love story that somehow manages to be both suspenseful and contemplative."—New York Times Book Review
— New York Times Book Review
"The character development is skillful, and the translator provides not only an excellent translation but a good introduction to Modiano."—Library Journal
— Library Journal
"[Out of the Dark] introduces to American readers one of the most prolific and critically esteemed French novelists of the last thirty years. . . . A whiff of Jeanne Moreau's corrupted glamour in Truffaut's Jules and Jim hangs over this affecting story of loss."—Kirkus Reviews
— Kirkus Reviews
"Translated smoothly by Stump, the narrative offers an accessible introduction to Modiano's work."—Publishers Weekly
— Publishers Weekly