We're following all official guidelines to keep ourselves healthy on the job, and as a result, shipping may be delayed.
You will receive an email from our web orders team confirming that your order has been processed.
We thank you for your support and your patience at this challenging time.
A Confederacy of Dunces (Evergreen Book) (Paperback)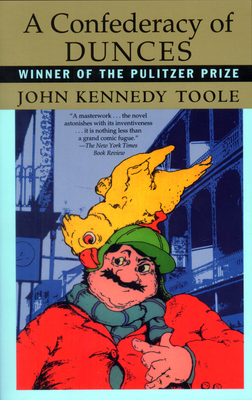 Description
---
Winner of the Pulitzer Prize
"A masterwork . . . the novel astonishes with its inventiveness . . . it is nothing less than a grand comic fugue."--The New York Times Book Review
A Confederacy of Dunces is an American comic masterpiece. John Kennedy Toole's hero, one Ignatius J. Reilly, is "huge, obese, fractious, fastidious, a latter-day Gargantua, a Don Quixote of the French Quarter. His story bursts with wholly original characters, denizens of New Orleans' lower depths, incredibly true-to-life dialogue, and the zaniest series of high and low comic adventures" (Henry Kisor, Chicago Sun-Times).
Praise For…
---
Pulitzer Prize Winner

A masterwork . . . the novel astonishes with its inventiveness . . . it is nothing less than a grand comic fugue."The New York Times Book Review

A corker, an epic comedy, a rumbling, roaring avalanche of a book."The Washington Post

An astonishingly good novel, radiant with intelligence and artful high comedy."Newsweek

One of the funniest books ever written . . . it will make you laugh out loud till your belly aches and your eyes water."The New Republic

The episodes explode one after the other like fireworks on a stormy night. No doubt about it, this book is destined to become a classic."The Baltimore Sun

The dialogue is superbly mad. You simply sweep along, unbelievably entranced."The Boston Globe

An astonishingly original and assured comic spree."New York Magazine

As hilarious as it indisputably is, A Confederacy of Dunces is a serious and important work." Los Angeles Herald Examiner

"If a book's price is measured against the laughs it provokes, A Confederacy of Dunces is the bargain of the year." Time

A brilliant and evocative novel." San Francisco Chronicle

"I found myself laughing out loud again and again as I read this ribald book." Christian Science Monitor

Crazy magnificent once-in-a-blue-moon first novel. . . . There is a touch of genius about Toole and what he has created." Publishers Weekly

A masterpiece of character comedy . . . brilliant, relentless, delicious, perhaps even classic." Kirkus Reviews

Astonishing, extravagant, lunatic, satiric, and peculiar, but it is above all genuine, skillful, and unsentimentally comic." Booklist

Ignatius J. Reilly is Bette Midler's favorite hero of fiction (Vanity Fair, August 2008)