Sesame Street When I Grow Up Book and Magnet Set: Storybook and Magnetic Dress-up Dolls (Board Book)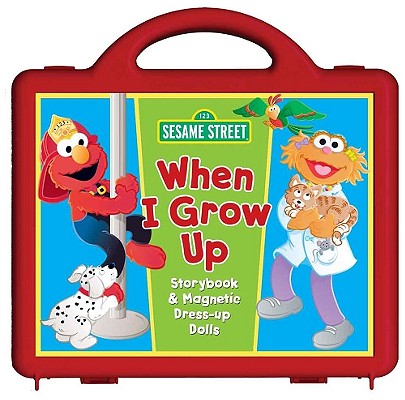 $14.99

Special Order—Subject to Availability
Description
---
Do you ever think about what you want to be when you grow up? Elmo and his friends do! They think that it's great fun to imagine what jobs they'd like as grown-ups—from firefighters to librarians, astronauts to artists. Inside the handy, take-anywhere carrying case, kids will find a 16-page storybook, two magnetic Elmo and Zoe figures to dress with 12 different occupation-appropriate outfits, and 10 fun play scenes that serve as backdrops for imaginative play!
"Wow! Elmo never know jobs could be so much fun," said Elmo.
"It sure is fun to imagine!" Grover added.
"Yeah," Zoe agreed. "I can't wait till I'm a grown-up and can choose just the right job for me. There are so many good choices."
"You know, there are lots of good choices at the playground, too," said Big Bird, leading the way. "The swings, the sliding board . . . And we don't even have to wait till we grow up!"
Because of the great response to our new Magnetic Book and Playset format, here's a perfect portable pack that will have kids thinking about what job they would like to have when they grow up—but doesn't let them forget to have fun as a kid.
• Dress up fun will inspire kids to imagine what jobs they'd like as grown-ups.
• Book describes lots of jobs for kids to explore: Grover would like to be a farmer on Old McGrover's farm, Elmo would like to be a teacher, Oscar would like to be an artist—even a grouch can appreciate good art, and of course Cookie Monster would love to be a chef. Other professions featured in book are firefighter, construction worker, veterinarian, gardener, librarian, astronaut, nurse, and an athlete.
• Includes:
- 16 page storybook
- magnetic Elmo and Zoe dolls to dress with 12 different outfits
- 10 different play scenes such as firehouse, library, kitchen, classroom, garden and more