How to Be: Six Simple Rules for Being the Best Kid You Can Be (Rizzoli Classics) (Abridged / Hardcover)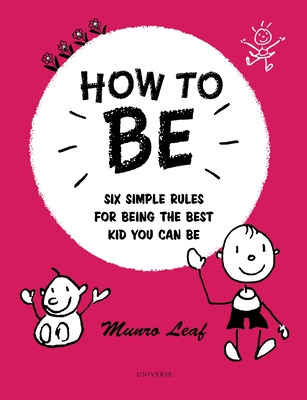 $19.95
In Stock—Click for Locations
Description
---
The first collection of abridged versions of Munro Leaf's most popular children's guides to proper behavior—featuring retro, midcentury modern illustrations, this is the perfect gift for grandparents, parents, and children alike. Renowned children's book illustrator and author Munro Leaf captured the whimsy and innocence of childhood for an entire generation of young readers. Now, more than fifty years later, those same readers are passing these stories down to their children and their children's children, and Leaf's collection of children's books has reached iconic status.   
Collected here for the first time in one affordable volume are selections from some of Leaf's most beloved childhood guides. With a charming mixture of fatherly concern and kindhearted humor, and without ever coming across as a scold, Leaf has helped generations of American children (and adults) learn how to behave like proper grown-ups (in grown-up company), how to speak politely, to enjoy reading, and even to remember to brush their teeth.  With over 500,000 copies of his beloved books in print, this new edition will bring Leaf's unique voice to an entirely new group of young readers.
About the Author
---
Munro Leaf is best known for The Story of Ferdinand, first published in 1936 and a best seller ever since. To date, his books have sold over half a million copies. He died in 1976 at the age of 71.
Praise For…
---
"With a charming mixture of fatherly concern and kindhearted humor, and without ever coming across as a scold, Leaf has helped generations of American children (and adults) learn how to behave like proper grown-ups (in grown-up company), how to speak politely, to enjoy reading, and even to remember to brush their teeth. . . How to Be: Six Simple Rules for Being the Best Kid You Can Be is very highly recommended for personal, community and academic library collections and will ably serve to introduce Munroe Leaf's work to a new generation of appreciative young readers."
-MIDWEST BOOK REVIEW