We're following all official guidelines to keep ourselves healthy on the job, and as a result, shipping may be delayed.
You will receive an email from our web orders team confirming that your order has been processed.
We thank you for your support and your patience at this challenging time.
K2: Life and Death on the World's Most Dangerous Mountain (Hardcover)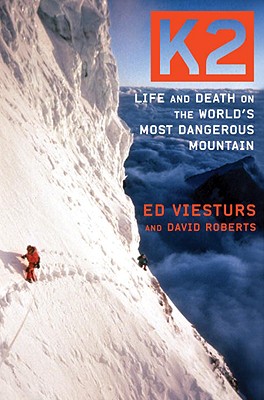 $26.00
Special Order—Subject to Availability
Description
---
A thrilling chronicle of the tragedy-ridden history of climbing K2, the world's most difficult and unpredictable mountain, by the bestselling authors of No Shortcuts to the Top

At 28,251 feet, the world's second-tallest mountain, K2 thrusts skyward out of the Karakoram Range of northern Pakistan. Climbers regard it as the ultimate achievement in mountaineering, with good reason. Four times as deadly as Everest, K2 has claimed the lives of seventy-seven climbers since 1954. In August 2008 eleven climbers died in a single thirty-six-hour period on K2–the worst single-event tragedy in the mountain's history and the second-worst in the long chronicle of mountaineering in the Himalaya and Karakoram ranges. Yet summiting K2 remains a cherished goal for climbers from all over the globe. Before he faced the challenge of K2 himself, Ed Viesturs, one of the world's premier high-altitude mountaineers, thought of it as "the holy grail of mountaineering."

In K2: Life and Death on the World's Most Dangerous Mountain, Viesturs explores the remarkable history of the mountain and of those who have attempted to conquer it. At the same time he probes K2's most memorable sagas in an attempt to illustrate the lessons learned by confronting the fundamental questions raised by mountaineering–questions of risk, ambition, loyalty to one's teammates, self-sacrifice, and the price of glory. Viesturs knows the mountain firsthand. He and renowned alpinist Scott Fischer climbed it in 1992 and were nearly killed in an avalanche that sent them sliding to almost certain death. Fortunately, Ed managed to get into a self-arrest position with his ice ax and stop both his fall and Scott' s.

Focusing on seven of the mountain's most dramatic campaigns, from his own troubled ascent to the 2008 tragedy, Viesturs and Roberts crafts an edge-of-your-seat narrative that climbers and armchair travelers alike will find unforgettably compelling. With photographs from Viesturs's personal collection and from historical sources, this is the definitive account of the world's ultimate mountain, and of the lessons that can be gleaned from struggling toward its elusive summit.
About the Author
---
In May 2005 Ed Viesturs became the first American to ascend all fourteen of the world's 8,000-meter peaks. He lives in Bainbridge Island, Washington, with his wife and three children. He still climbs and seeks out new adventures. For more information, visit www.edviesturs.com.

DAVID ROBERTS is the author of twenty books on mountaineering, adventure, and history. He has written for "National Geographic, National Geographic Adventure, " and "Smithsonian." He lives in Cambridge, Massachusetts.