We're following all official guidelines to keep ourselves healthy on the job, and as a result, shipping may be delayed.
You will receive an email from our web orders team confirming that your order has been processed.
We thank you for your support and your patience at this challenging time.
Winter Tide (The Innsmouth Legacy #1) (Hardcover)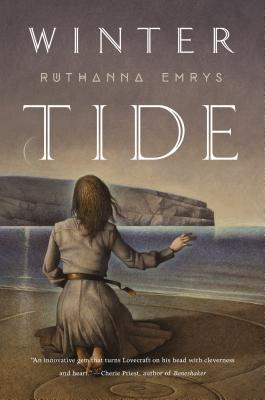 $39.99
Not On Our Shelves—Ships in 1-5 Days
Other Books in Series
This is book number 1 in the The Innsmouth Legacy series.
Description
---
One of NPR's Best Books of 2017!
Finalist for the RT Award for Best Fantasy Novel

"Winter Tide is a weird, lyrical mystery — truly strange and compellingly grim. It's an innovative gem that turns Lovecraft on his head with cleverness and heart" —Cherie Priest
After attacking Devil's Reef in 1928, the U.S. government rounded up the people of Innsmouth and took them to the desert, far from their ocean, their Deep One ancestors, and their sleeping god Cthulhu. Only Aphra and Caleb Marsh survived the camps, and they emerged without a past or a future.
The government that stole Aphra's life now needs her help. FBI agent Ron Spector believes that Communist spies have stolen dangerous magical secrets from Miskatonic University, secrets that could turn the Cold War hot in an instant, and hasten the end of the human race.
Aphra must return to the ruins of her home, gather scraps of her stolen history, and assemble a new family to face the darkness of human nature.
Winter Tide is the debut novel from Ruthanna Emrys. It is the first book in the Innsmouth Legacy series.
THE INNSMOUTH LEGACY
Book 1: Winter Tide
Book 2: Deep Roots
About the Author
---
RUTHANNA EMRYS lives in a mysterious manor house on the outskirts of Washington, DC with her wife and their large, strange family. Her stories have appeared in a number of venues, including Strange Horizons, Analog, and Tor.com. She is the author of the Innsmouth Legacy series, which began with Winter Tide. She makes home-made vanilla, obsesses about game design, gives unsolicited advice, and occasionally attempts to save the world.
Praise For…
---
PRAISE FOR WINTER TIDE:
"Winter Tide is a weird, lyrical mystery — truly strange and compellingly grim. It's an innovative gem that turns Lovecraft on his head with cleverness and heart" —Cherie Priest, author of Maplecroft and Boneshaker
"A mythos yarn that totally reverses the polarity on Lovecraft's xenophobia, so that in the end the only real monsters are human beings." —Charles Stross, Hugo Award-winning author of the Laundry Files and the Merchant Princes series
"Winter Tide is a treasure chest. This is an excellent novel and I can't wait for more." —Victor LaValle, author of The Ballad of Black Tom and The Devil in Silver
"This is Wicked for the Cthulhu Mythos: never quite contradicting, but dancing through the shadows and dredging beautiful things out of the deep, pulling them, at last, into the light." —Seanan McGuire, New York Times bestselling author of Every Heart a Doorway

"I just want to hang out more with Aphra and her found family, not to mention her family under the sea. [Winter Tide] is a great story and a seamless subversion of Lovecraft's most repellent views while simultaneously being a tribute to his greatest accomplishments." —Smart Bitches Trashy Books
"Emrys plots out an impressive book that updates Lovecraft's creations with added nuance and empathy." —Andrew Liptak, The Verge
"Deeply felt, humane...exceptionally compelling." —RT BookReviews Top Pick, 4 ½ Stars
"Winter Tide is a delicious, rich concoction that centers its story on its characters." —Kirkus Reviews
"A generous novel, a kind one, and an exceptionally accomplished debut." —Liz Bourke for Locus Magazine
"Relevant and resonant." —Publishers Weekly

"Emrys uses the beautiful structures of Lovecraft to make a bold statement about difference and culture." —Booklist
"[I] will certainly be looking forward to anything else written by Ruthanna Emrys. [An] intriguing and welcoming book." —Forbidden Planet
"Winter Tide is a haunting, beautifully-crafted ballad exploring love, loss, and monsters." —Daniel José Older, New York Times bestselling author of Shadowshaper and Midnight Taxi Tango
"An engrossing story about othering and family that turns Lovecraft fascinatingly inside out." —Jo Walton, Hugo Award-winning author of Among Others and The Just City
"Winter Tide shines an unexpected light on the shadow over Innsmouth, and shows how all creatures have to find common ground (or ocean) against evil." —Alex Bledsoe, author of Long Black Curl
"Emrys has done what Lovecraft never could — create complex characters in an intricate plot that engages the heart at the same time as it curdles the blood." —Sam J. Miller, winner of the Shirley Jackson Award
PRAISE FOR "THE LITANY OF EARTH":
"'The Litany of Earth' by Ruthanna Emrys is something special... a fascinating spin on the Cthulhu Universe." —Charlie Jane Anders, author of All the Birds in the Sky
"What if Lovecraft's undersea creatures were not creepy monsters, but a persecuted people? [...] Emrys does justice to the idea in this lovely story of alienation and finding a new life in the shadow of the old." —Aliette de Bodard, author ofThe House of Shattered Wings