We're following all official guidelines to keep ourselves healthy on the job, and as a result, shipping may be delayed.
You will receive an email from our web orders team confirming that your order has been processed.
We thank you for your support and your patience at this challenging time.
Pop-up Shakespeare: Every Play and Poem in Pop-up 3-D (Hardcover)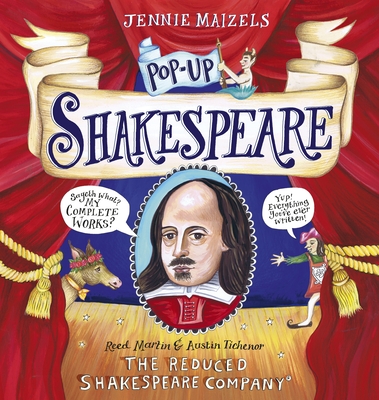 Description
---
Learn about all of Shakespeare's plays in one book!

Read about William Shakespeare's plays, sonnets, and poems as you never have before in an entertaining pop-up book collaboration between the internationally known comedy troupe the Reduced Shakespeare Company and best-selling illustrator Jennie Maizels. Featuring five interactive spreads filled with dramatic pop-ups, fun foldouts, hilarious summaries, and fascinating commentaries, this is the perfect introduction to one of the world's greatest playwrights and his enduring works.
About the Author
---
The Reduced Shakespeare Company has created ten world-renowned stage shows, two television specials, and numerous radio pieces, all of which have been performed, seen, and heard the world over. The company's itinerary has included countless tours of the United States, the United Kingdom, and Europe, as well as performances in Israel, Australia, New Zealand, Hong Kong, Japan, Malta, Singapore, and Bermuda.

Jennie Maizels studied illustration at Central Saint Martin's School of Art and Design in London. She is best known for her engaging nonfiction books for children, such as Pop-up New York, Pop-up London, and The Terrific Times Tables Book. Jennie Maizels lives in England.
Praise For…
---
Is it possible for one not-very-large volume to contain pop-up summaries of the Bard's every play and poem, with representative scenes, settings, quotes, and historical notes?Leave it to the managing partners of the Reduced Shakespeare Company to manage the deed—with plenty of help from Maizels (Pop-Up New York, 2014, etc.)...The plays are really the thing, but these concise and often hilarious takes offer tantalizing hints of their enduring value, along with their content.
—Kirkus Reviews (starred review)

For readers intimidated by Shakespeare, it's hard to imagine a more entertaining way to get a sense of what these classics are about.
—Publishers Weekly (starred review)

Pop-up Shakespeare is fun, simple, and unpretentious...It's both friendly and approachable—something that the Shakespeare world frankly needs more of—and breaks stereotypes of how Shakespeare should be learned or experienced...it's an excellent holiday gift for a budding Shakespearean, young, old, or anywhere in between.
—PlayShakespeare.com

William Shakespeare's plays and poems get an immersive, pop-up treatment in this vastly enjoyable guide to the bard's complete works...For students wondering why there is so much fuss about Shakespeare, this is the perfect blend of information and fun.
—School Library Journal

When I first heard about the project, I wondered who the target audience was...the answer seems to be that it's for everyone.
—Huffington Post