We're following all official guidelines to keep ourselves healthy on the job, and as a result, shipping may be delayed.
You will receive an email from our web orders team confirming that your order has been processed.
We thank you for your support and your patience at this challenging time.
I (Don't) Like Snakes (Hardcover)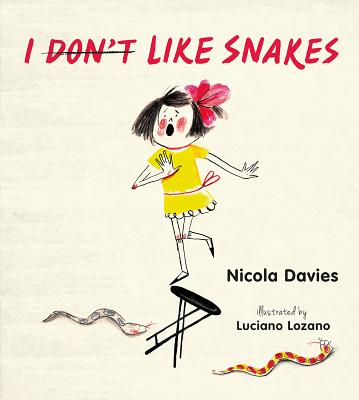 $15.99
Not On Our Shelves—Ships in 1-5 Days
Description
---
They're slithery and scaly, and they have icky, flicking tongues and creepy, unblinking eyes. What's to like about a snake? You'd be surprised!

This little girl has a problem. Her family doesn't have dogs, or cats, or birds—they have snakes! And she really, really, really really doesn't like snakes. Her family can't understand her dislike, but they can help her understand why snakes do the things they do and look the way they look. And maybe once she knows more, she will start to like snakes a little . . . or even a lot. Packed with snake trivia, this clever story includes realistic illustrations and simple explanations of snake behavior sure to make even slither-phobic readers shed their misconceptions about these fascinating reptiles. Back matter includes a note about snakes, a bibliography, and an index.
About the Author
---
Nicola Davies trained as a zoologist and has written many award-winning books for children, including Extreme Animals and One Tiny Turtle. She wasn't allowed to have a snake as a child, but she's encountered snakes on her travels around the world. She lives in Devon, England.

Luciano Lozano's illustrations are published regularly in magazines and books. He says, "I've loved drawing this family and their pet snakes. I drew until they made me smile, and sometimes they even smiled back." He lives in Barcelona.
Praise For…
---
From funny ("The snake wriggles out of its skin the way you pull your foot out of a sock, leaving the old skin inside out!") to shiver-inducing ("They have fangs that are hollow, like a doctor's needle, which inject venom. They strike like lightning"), the facts are captivating. Mixed-media drawings feature energetically scruffy lines and vibrant colors, and multiple scenes appear per page, showing the family at home and snakes in the wild. One close-up drawing of multicolored snake heads, emphasizing their varying lidless eyes, is downright beautiful...The protagonist isn't the only one who will find snakes spellbinding by the end.
—Kirkus Reviews (starred review)

Lozano expertly shifts between scribbly cartoons of the family and more naturalistic drawings of snakes and their anatomy, accompanied by information-packed captions from Davies...The book's blend of playfulness and scientific detail make it a winner.
—Publishers Weekly (starred review)

While many readers won't be as easily converted as the book's narrator, this title may spur them on to learn more.
—School Library Journal

Davies perfectly balances the gross, cool, and scary to help readers appreciate this much-maligned reptile. Lozano's illustrations extend this tone, adding humor and additional narrative to portrayals of the family as well as careful detailing of snake species in the more informative sections.
—The Horn Book

Although this might not cure ophidiophobia, its duo design will let it slide easily into a storytime setting or into the hands of older readers looking for more detailed information about snakes.
—Booklist

This book would make a clever mentor text for classroom animal reports, encouraging readers and writers to think deeply about the creative ways to present both narratives and information.
—Literacy Daily

This is a worthwhile addition to the elementary school library, and could be useful to entice the reluctant nonfiction reader to give the genre a try.
—School Library Connection