Firefly July: A Year of Very Short Poems (Hardcover)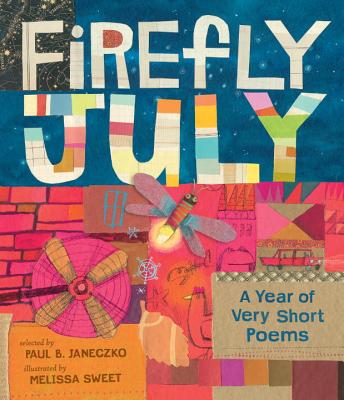 $16.99
Special Order—Subject to Availability
Description
---
Celebrated poet and anthologist Paul B. Janeczko pairs with Caldecott Honoree Melissa Sweet for a collection of short poems to sample and savor.

It only takes a few words, if they're the right words, to create a strong image. Whether listened to in the comfort of a cozy lap or read independently, the thirty-six very short poems in this collection remind readers young and old that a few perfect words and pictures can make the world glow. Selected by acclaimed poet Paul B. Janeczko and gorgeously illustrated by Melissa Sweet, Firefly July: A Year of Very Short Poems invites children to sample poems throughout the four seasons.
About the Author
---
Paul B. Janeczko (1945–2019) was a poet and teacher who edited numerous award-winning poetry anthologies for young people, including A Poke in the I, A Kick in the Head, A Foot in the Mouth, and The Death of the Hat, all of which were illustrated by Chris Raschka; Firefly July, illustrated by Melissa Sweet; and The Proper Way to Meet a Hedgehog and Other How-To Poems, illustrated by Richard Jones. He also wrote Worlds Afire; Requiem: Poems of the Terezín Ghetto; Top Secret: A Handbook of Codes, Ciphers, and Secret Writing; Double Cross: Deception Techniques in War; The Dark Game: True Spy Stories from Invisible Ink to CIA Moles, a finalist for the YALSA Award for Excellence in Nonfiction for Young Adults; and Secret Soldiers: How the U.S. Twenty-Third Special Troops Fooled the Nazis.

Melissa Sweet has illustrated nearly one hundred books for children, including A River of Words: The Story of William Carlos Williams, a 2009 Caldecott Honor Book. She is also the creator of Balloons Over Broadway: The True Story of the Puppeteer of Macy's Parade, a 2012 Robert F. Sibert Medal Winner. Melissa Sweet lives in Rockport, Maine.
Praise For…
---
Anthologies of poetry for young people are never in short supply. But "Firefly July: A Year of Very Short Poems" is a glorious example of the genre. Paul B. Janeczko has selected 36 poetic gems with an expert's ear, matching them ingeniously to the four seasons. ... This marriage of verbal and visual imagery has the effect of making some familiar, even hoary poems suddenly seem utterly new. ... The poems are short, accessible and child-friendly, but they are far from unsophisticated. ... Janeczko has a brilliant accomplice in his act of literary reimagination. This is his illustrator, Melissa Sweet. Sweet's spectacular mixed-media illustrations seem poised to break free from the book's large pages. They are alternately delicate and bold, mistily atmospheric and scorchingly bright. Her touch combines the rigor of a mature artist and the scratchy abandon of a child. Best of all, they illuminate the poetry with genuine wit, intelligence and emotion. They are poems come to life.
—The New York Times Book Review

Organized by the seasons, beginning with spring, this collection of 36 impeccably chosen short poems demonstrates that significant emotional power can reside in just a few lines. In obvious contrast with such small bites of poetry, the large-format design explodes with bright and expressive watercolor, gouache, and mixed-media collages. Colors and shapes with willowy details expertly blur or bring bits of the images into focus to create a magical sense of place, time, and beauty. ... Every poem evokes a moment, and, combined with its corresponding full-bleed illustration, the season is captured for readers to remember, experience, or anticipate. Any collection will be brighter with the inclusion of this treasure.
—School Library Journal (starred review)

In their brevity, the poems remind us that less can often be more and that there is art in economy. ... Caldecott Honor artist Sweet's pictures are, in a word, gorgeous. Executed in watercolor, gouache, and mixed-media, they capture and expand the spirit and sensibility of the verses they illustrate to wonderful effect. The harmonious cooperation of words and images provides a memorable reading experience for each season and for the whole year 'round.
—Booklist (starred review)

Janeczko artfully arranges 36 elegant poems among the four seasons. ... Sweet's effervescent mixed-media collages include signature elements like graph paper and saturated pinks; the large format engenders some expansive compositions, such as one showing the curve of the Earth near an enormous, smiling full moon. Inventive details abound, too: The last spread shows a child asleep under a crazy quilt that incorporates motifs from all four seasons—a perfect visual ending. Scintillating!
—Kirkus Reviews (starred review)

A spirited anthology. Evocative and accessible. Sweet's artwork is marvelously varied.
—Publishers Weekly (starred review)

Most of [the poems] are bijou bursts of imagery, capturing a moment or provoking contemplation with a fresh metaphor. Sweet's mixed-media art is elegant, quirky, and friendly... While the inviting art and poetic brevity will lure younger readers (and readaloud audiences), there's a sophistication in the poetic metaphors that will keep even older elementary readers engaged, and the compactness of the verse and visual translation will help reluctant poetry readers look at verse in a new light.
—Bulletin of the Center of Children's Books

"Firefly July: A Year of Very Short Poems" is something quite special. ... There's no better way to introduce little ones to the verses of Robert Frost, Emily Dickinson, Richard Wright and more.
—BookPage Online

[R]ich with color and filled with Melissa Sweet's eventful, expressive illustrations, "Firefly July: A Year of Very Short Poems" stands out for its good looks and the charm of its concise verses, anthologized by Paul B. Janeczko.
—The Wall Street Journal

Breeze through the seasons with this deftly selected collection of 36 poems, each embedded like a jewel in one of Melissa Sweet's gloriously textured mixed-media illustrations.
—The Washington Post

It's little wonder that Firefly July entranced me as much as it did. I don't consider myself a poetry connoisseur so it takes something special to break through to me as much as this book did. ... Lulling and lovely, there's something for everyone inside.
—A Fuse #8 Production (SLJ blog)

A marvelous collection. ... Gorgeous illustrations.
—The Buffalo News