Black Men Built the Capitol: Discovering African-American History in and Around Washington, D.C. (Paperback)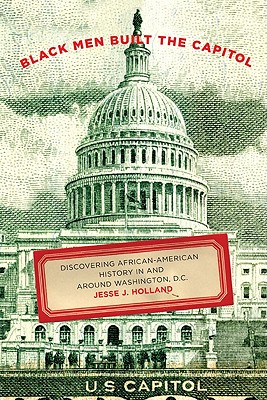 $14.95
Special Order—Subject to Availability
Description
---
Millions of people visit the National Mall, the White House, and the U.S.
Capitol each year. If they only hear the standard story, a big question remains:
"Where's the black history?" Packed with new information and archival photos, Black Men Built the Capitol
answers this question. In this thoroughly researched yet completely accessible volume, Washington insider and political journalist Jesse J. Holland shines a light
on the region's African-American achievements, recounting little-known stories
and verifying rumors, such as: - Enslaved black men built the Capitol, White House, and other important Washington structures.- Philip Reid, a thirty-nine-year-old slave from South Carolina, cast and helped
save the model of the Statue of Freedom that sits atop the Capitol Dome. - The National Mall sits on the former site of the city's most bustling slave market.- The grounds that are now Arlington National Cemetery were, from 1863 to
1888, a self-sustaining village for former slaves called the Freedman's Village. Included are hundreds of places in the District of Columbia, Maryland, and Virginia that illuminate "the rest of the story" for Washington residents and visitors alike.

About the Author
---
Jesse Holland is an Associated Press reporter covering Congress and is extraordinarly well placed among Washington's black power elite--the political, legal, academic, and media communities. He took a year's sabbatical from the AP to conduct never-before-done research into the topics covered in this book.