The New Thought Police: Inside the Left's Assault on Free Speech and Free Minds (Paperback)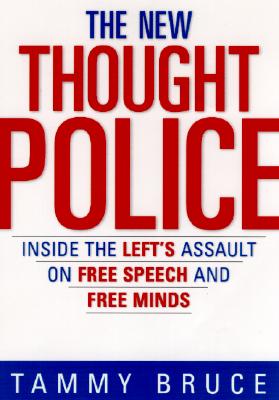 $16.00
Special Order—Subject to Availability
Description
---
Stop the Left from Policing Your Mind
Our freedom to speak our minds is under attack. Like the Thought Police of George Orwell's 1984, powerful special interest groups on the Left are mounting a withering assault on our rights in the name of "social equality." Liberty has been turned on its ear as the rights of the few restrict the freedom of everyone. In The New Thought Police, author Tammy Bruce, a self-described lesbian feminist activist, cuts through the deluge of politically correct speech and thought codes to expose the dangerous rise of Left-wing McCarthyism. Provocative and persuasive, this book is a clarion call to anyone interested in preserving liberty.
About the Author
---
Tammy Bruce has appeared on The O'Reilly Factor, Hannity & Colmes, Today, The G. Gordon Liddy Show, and The Larry Elder Show, among numerous other television and radio programs, and she has been written about in the Los Angeles Times, New York Times, U.S. News & World Report, Human Events, and elsewhere. A regular columnist for NewsMax.com and FrontPageMagazine.com and a frequent writer for The Advocate, she lives in Los Angeles.
Praise For…
---
Praise for The New Thought Police:
"A strong book" — John Leo, U.S. News & World Report
"This book is an inside job—wickedly satisfying and full of priceless opinions." — Norah Vincent, syndicated columnist
"How many liberal lesbian writers have been praised by conservatives? Tammy Bruce may be the only one." — Thomas Sowell, nationally syndicated columnist
"A passionate and entertaining diatribe." — National Review