The Knowledge Manager's Handbook: A Step-By-Step Guide to Embedding Effective Knowledge Management in Your Organization (Paperback)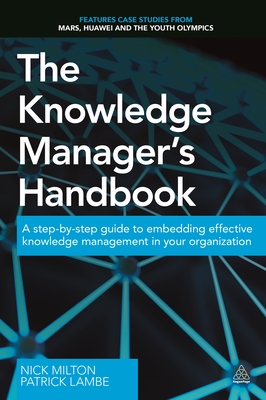 Out of Print in This Format
Description
---
The way an organization manages and disseminates its knowledge is key to informed business decision-making, effectiveness and competitive edge. Because knowledge management is not a one-size-fits-all method, you need a framework tailored to your organization and its priorities. The Knowledge Manager's Handbook takes you step by step through the processes needed to define and embed an effective knowledge management framework within your organization.
Knowledge management experts Nick Milton and Patrick Lambe draw on their practical experience as consultants and project leaders to guide you through each stage of creating and implementing a knowledge management framework to answer your organization's specific needs. The framework takes into account the four essential aspects of knowledge management - people, processes, technologies and governance - and shows how each of these can be optimized to unlock the value of your organization's knowledge. With international case studies from organizations of all sizes and sectors, and user-friendly templates and checklists to help you implement effective knowledge management procedures, The Knowledge Manager's Handbook is the end to end guide to making a sustainable change in your organization's knowledge management culture.
About the Author
---
Dr Nick Milton is a director and co-founder of Knoco Ltd, an international Knowledge Management consultancy. He was at the centre of the team that made BP the leading Knowledge Management company in the world, developing and implementing BP's knowledge of how to manage knowledge, and coordinating the BP Knowledge Management Community of Practice. Patrick Lambe is a world-renowned knowledge management expert, and a founding partner of Straits Knowledge, a global consulting and research firm specializing in knowledge, learning and innovation. He is an Adjunct Professor in Knowledge Management at the Hong Kong Polytechnic University, and Visiting Professor in the Knowledge and Innovation Management PhD programme at Bangkok University.