We're following all official guidelines to keep ourselves healthy on the job, and as a result, shipping may be delayed.
You will receive an email from our web orders team confirming that your order has been processed.
We thank you for your support and your patience at this challenging time.
They Marched Into Sunlight: War and Peace Vietnam and America October 1967 (Paperback)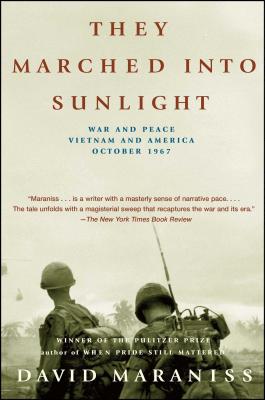 Special Order—Subject to Availability
Description
---
Here is the epic story of Vietnam and the sixties told through the events of a few gripping, passionate days of war and peace in October 1967. They Marched Into Sunlight brings that tumultuous time back to life while exploring questions about the meaning of dissent and the official manipulation of truth, issues as relevant today as they were decades ago.

In a seamless narrative, Maraniss weaves together the stories of three very different worlds: the death and heroism of soldiers in Vietnam, the anger and anxiety of antiwar students back home, and the confusion and obfuscating behavior of officials in Washington. To understand what happens to the people in these interconnected stories is to understand America's anguish. Based on thousands of primary documents and 180 on-the-record interviews, the book describes the battles that evoked cultural and political conflicts that still reverberate.
About the Author
---
David Maraniss is an associate editor at The Washington Post and a distinguished visiting professor at Vanderbilt University. He has won two Pulitzer Prizes for journalism and was a finalist three other times. Among his bestselling books are biographies of Bill Clinton, Barack Obama, Roberto Clemente, and Vince Lombardi, and a trilogy about the 1960s—Rome 1960; Once in a Great City (winner of the RFK Book Prize); and They Marched into Sunlight (winner of the J. Anthony Lucas Prize and Pulitzer Finalist in History). A Good American Family is his twelfth book.
Praise For…
---
"Maraniss. . . is a writer with a masterly sense of narrative pace....The tale unfolds with a magisterial sweep that recaptures the war and its era."
— The New York Times Book Review

"My nominee for must-read nonfiction book of the year. . . . They Marched Into Sunlight is that miraculous thing, a substantive, exhaustively researched work of history that reads like a novel."
— Maureen Corrigan

"A masterful work that brings the conflict back with a rush of cinema verité emotion and tension. . . . Over the years, Vietnam has produced several classics, all of them different: Dispatches, by Michael Herr, and A Bright Shining Lie, by Neil Sheehan. Here is another."
— The Economist

"The towering work of nonfiction this year. . . . Maraniss' great achievement is to be epic and intimate at the same time."
— Samuel G. Freedman