We're following all official guidelines to keep ourselves healthy on the job, and as a result, shipping may be delayed.
You will receive an email from our web orders team confirming that your order has been processed.
We thank you for your support and your patience at this challenging time.
Walk This Way: Run-DMC, Aerosmith, and the Song that Changed American Music Forever (Hardcover)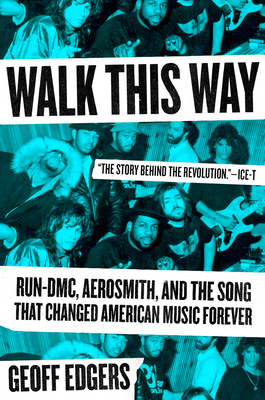 Description
---
Washington Post national arts reporter Geoff Edgers takes a deep dive into the story behind "Walk This Way," Aerosmith and Run-DMC's legendary, groundbreaking mashup that forever changed music.

The early 1980s were an exciting time for music. Hair metal bands were selling out stadiums, while clubs and house parties in New York City had spawned a new genre of music. At the time, though, hip hop's reach was limited, an art form largely ignored by mainstream radio deejays and the rock-obsessed MTV network.

But in 1986, the music world was irrevocably changed when Run-DMC covered Aerosmith's hit "Walk This Way" in the first rock-hip hop collaboration. Others had tried melding styles. This was different, as a pair of iconic arena rockers and the young kings of hip hop shared a studio and started a revolution. The result: Something totally new and instantly popular. Most importantly, "Walk This Way" would be the first rap song to be played on mainstream rock radio.

In Walk This Way, Geoff Edgers sets the scene for this unlikely union of rockers and MCs, a mashup that both revived Aerosmith and catapulted hip hop into the mainstream. He tracks the paths of the main artists—Steven Tyler, Joe Perry, Joseph "Run" Simmons, and Darryl "DMC" McDaniels—along with other major players on the scene across their lives and careers, illustrating the long road to the revolutionary marriage of rock and hip hop. Deeply researched and written in cinematic style, this music history is a must-read for fans of hip hop, rock, and everything in between.
About the Author
---
Geoff Edgers is a journalist and author. He is the national arts reporter for The Washington Post, hosts the Edge of Fame podcast, and his work has appeared in GQ, Spin, and The Boston Globe, among others. He also produced and starred in the 2010 documentary Do It Again, and he is the author of multiple children's books about The Beatles, Elvis Presley, Stan Lee, and Julia Child. He lives in Concord, MA. with his family.
Praise For…
---
"The question with a book like this—a book that zeroes in on a particular happening or art moment and then extrapolates boomingly outward—is always: Is there enough there? Enough action at the core, that is, and enough concentrically moving energy to prevent the narrative from collapsing in on itself as it stretches to book length? The answer in this case, I am happy to report, is yes."
—The Atlantic

"[A] fascinating chronicle… Edgers proves a master storyteller, rushing through the parallel narratives like a hip-hop DJ crossfading between turntables."
—The Boston Globe

"An exhaustively sourced, briskly entertaining read."
—The Washington Post

"How did a washed-up sleaze-rock band help bring hip-hop to the MTV masses? That story, told in precise detail by Washington Post arts reporter Geoff Edgers, is also the story of Run-DMC and their producer Rick Rubin, an ambitious NYU kid with wild ideas about fusing rap and rock… reveal[s] how the song transformed pop culture for good: by solidifying rap's mainstream appeal and knocking down white-dominated programming formats… it's hard not to be sucked in by the author's eye for incidental details"
—Pitchfork, The Best Music Books of 2019

"Edgers, a veteran Washington Post reporter, notes how a mix of creative, cultural and industry forces allowed the Hollis, Queens hip-hop crew and the bottomed-out Boston band to team up, altering their respective fortunes (both positively and negatively) and the course of pop music in the process."
—Mojo

"A vivid snapshot of a unique moment in cultural history."
—Publishers Weekly

"American music—and America itself—has always been a hybrid creation, different cultures and traditions colliding and cross-pollinating, becoming something new in the process. Walk This Way captures one such moment, a happy accident that marked the end of one era and the beginning of another. Geoff Edgers has written an engaging and unusually revealing account of an unlikely song (and an even unlikelier collaboration) that became a chapter in American musical history."
—Tom Perrotta, New York Times bestselling author of The Leftovers and Mrs. Fletcher
 
"Walk This Way spans from hip hop's blazing birth to classic rock's last gasps, from dorks in New York dorm room to the Sunset Strip at the height of hair metal.  Geoff Edgers takes a pop phenomenon and cracks it open to reveal a rollicking, curious and unlikely musical history."
—Jessica Hopper, author of The First Collection of Criticism by a Living Female Rock Critic

"Hip hop is a descendant of the declarative storytelling that has sustained black people from the shores of their homelands to the strange new countries of their captors. Hip hop music is both battle cry and survival song wrapped up in the swagger and majesty of a mighty people. But when Run DMC instructed that we should 'Walk This Way,' their words elevated beyond the confines of song and story to an actual manifesto that revolutionized an industry and a culture. Journalist Geoff Edgers chronicles the fascinating life of a song that changed the story forever."
—Ava DuVernay, director of 13th and A Wrinkle in Time

"The story behind the revolution."
—Ice-T

"You know when you love a song but have no idea what it means until your buddy explains it to you? Well, in this case the song is 'Walk This Way,' and your buddy is Geoff Edgers, who tells a story of how a single track became a single moment that changed music forever. Rick Rubin will be proud."
—Norm Macdonald, comedian and New York Times bestselling author of Based on a True Story