Backward Science: What was life like before world-changing discoveries? (Hardcover)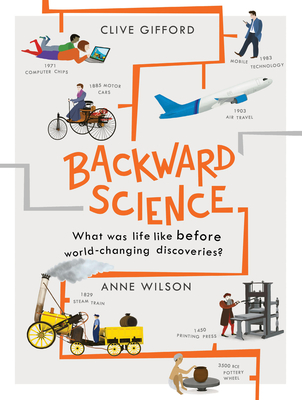 $17.95
Not On Our Shelves—Ships in 1-5 Days
Description
---
This book is backward! It starts at the end, ends at the beginning, and travels back in history to show you what life was like before major inventions and discoveries. Step into a time before smartphones, television, cars, or even the toilet; then learn about the major invention or discovery that changed the world.

Explore bright, detailed, humorous scenes from different eras that will spark discussion and make you think about what life was like in history. Learn about the clever inventors, the accidental discoveries, and how people managed without the everyday things that we take for granted.
Detailed, humorous scenes of different eras to explore 
Key topics of science, technology, and inventions
About the Author
---
Clive Gifford has traveled to more than 70 countries, climbed rocket launch towers, ridden on robots, and flown gliders. He's had more than 200 books published and has received nominations for or won Royal Society, School Library Association, Smithsonian, and TES awards. He won the Blue Peter Book Award for Best Book with Facts 2019 for his title The Colors of History (QEB). Clive lives in Manchester, UK. 
Anne Wilson has an MA in illustration from Central St Martins College of Art, London and has been an illustrator for over 15 years. Much of her work is inspired by everyday life, pattern, color, and shape. Born on Ascension Island in the South Atlantic, Anne now lives in the much less remote town of Reading, England.