The Big Book of Soccer by MUNDIAL (Hardcover)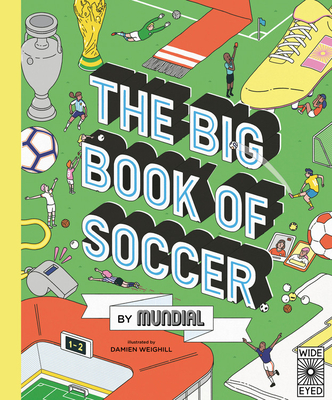 $30.00
In Stock—Click for Locations
About the Author
---
MUNDIAL is the number one multi-platform choice for soccer fans across the world. Whether through an award-winning series of audio documentaries made exclusively with Spotify, a single Tweet about a Cruyff goal that we'd forgotten about, a 142-page magazine featuring stories from every facet of soccer in every corner of the globe, a season-long social media collaboration with the FA, or a loving series of films created about fans and the individual communities within the club they've supported their whole lives—MUNDIAL reminds people why they love soccer.
Damien Weighill is an illustrator from the North East of England, based in London. Damien creates illustrations that are full of ideas (of both the smart and the joyfully silly kind). His work has been used by all sorts of publications, museums, and brands including Adidas, V&A, The Guardian, The Times, Google, The New Statesman, Cadbury, and New York Magazine.
Praise For…
---
"Equally appealing for browsers and avid ­readers, this is a recommended ­purchase."
- Abby Bussen, School Library Journal
—
-
"Definitely a GOOOOOAAAAAALLLLL."
- Kirkus Reviews
—
-