True-or-False Book of Horses (Hardcover)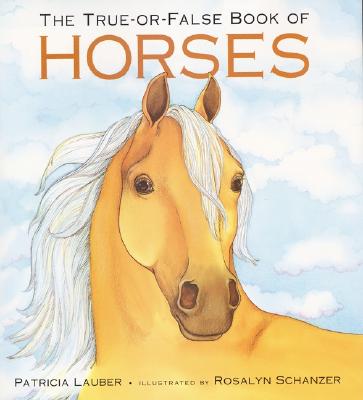 Description
---
Do horses really walk on tiptoe?
Can they solve math problems?
Are there wild horses today?
Discover what's fact and what's fiction about horses! Award-winning author Patricia Lauber teams up with superb illustrator Rosalyn Schanzer to provide a fascinating introduction to the history, anatomy, and behavior of an animal that changed human history.
The accessible true-or-false question-and-answer format adds to the fun for young readers who want to know more about these much-loved animals.
About the Author
---
Patricia Lauber is the author of more than sixty-five books for young readers. Many of them are in the field of science, and their range reflects the diversity of her own interests-bats, dolphins, dogs, volcanoes, earthquakes, the ice ages, the Everglades, the planets, earthworms. Two of her books, SEEDS: POP STICK GLIDE and JOURNEY TO THE PLANETS, were nonfiction nominees for The American Book Awards. She was the 1983 winner of The Washington Post/Children's Book Guild Award for her overall contribution to children's nonfiction literature.
As well as writing books, Ms. Lauber has been editor of Junior Scholastic, editor-in-chief of Science World, and chief editor, science and mathematics, of The New Book of Knowledge
A graduate of Wellesley College, she is married and lives in Connecticut. When not writing, she enjoys hiking, sailing, traveling, cooking, reading, and listening to music.
Patricia Lauber is the highly acclaimed author of, among others, Volcano, a Newbery Honor Book, and Flood, a School Library Journal Best Book of the Year. Her fascination with horses began in childhood, when she loved to read about them. She learned to ride, and at the age of twelve spent a memorable summer on a ranch in New Mexico. Patricia Lauber lives with her husband in New Canaan, Connecticut.
Rosalyn Schanzer has written and illustrated several outstanding children's books, including her How We Crossed the West, which received starred reviews from School Library Journal and Publishers Weekly, and, most recently, Gold Fever! As a child, she always enjoyed reading stories about horses. By the time the artist was twelve years old, she'd read all of the Black Stallion books, by Walter Farley; then she studied the muscle structures of horses so that she could draw them herself. Rosalyn Schanzer lives with her husband, Steve, their children, Adam and Kim, and their family dog, Jones, in Fairfax Station, Virginia.
Patricia Lauber and Rosalyn Schanzer recently collaborated on The True-or-False Book of Cats, which School Library Journal called "A delightful look at the behavior of these popular pets ... A book that will frequently stray from the shelf."