At Canaan's Edge: America in the King Years, 1965-68 (Paperback)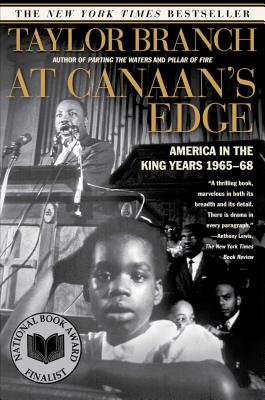 Description
---
At Canaan's Edge concludes America in the King Years, a three-volume history that will endure as a masterpiece of storytelling on American race, violence, and democracy. Pulitzer Prize-winner and bestselling author Taylor Branch makes clear in this magisterial account of the civil rights movement that Martin Luther King, Jr., earned a place next to James Madison and Abraham Lincoln in the pantheon of American history.
Praise For…
---
"The crowning achievement of Branch's King trilogy is to show anew the moral power of [nonviolent] philosophy."
-- The Atlanta Journal-Constitution



"This is so far the best look at [the Sixties]. It is an essential tool for understanding what happened to and in America across that dizzying span of years."
-- Garry Wills, The New York Review of Books



"A magnificent account of witness and sacrifice."
-- John Leonard, Harper's Magazine



"A thrilling book, marvelous in both its breadth and its detail. There is drama in every paragraph."
-- Anthony Lewis, The New York Times Book Review



"Luminous...magisterial...At Canaan's Edge is a sweeping history of protest and politics, bursting with outsize figures."
-- Chicago Tribune